She's Got the Look
New women's clothing store opens
Who says you can't flaunt a pair of red-sequined pumps and skinny jeans down Ala Malama Avenue?
"Women should rock a pair of heels to the grocery store no problem!" said Tarrah Horner, owner of Molokai's newest clothing boutique, iCandie, located in Kaunakakai.
The chic store adorned with zebra printed curtains and sparkling chandeliers held its grand opening last Friday and marked a new fashion opportunity for women to shop without leaving the island.
"I want to change the presumption that you can't dress up on Molokai," Horner said. "Women should feel comfortable to wear whatever makes them feel good, regardless of where they live."

With each item hand-picked by Horner, iCandie boasts an intriguing selection of cocktail dresses, brand-name jeans, fitted tees and an array of shoes and accessories selected from off-island retail stores as well as popular online shopping websites.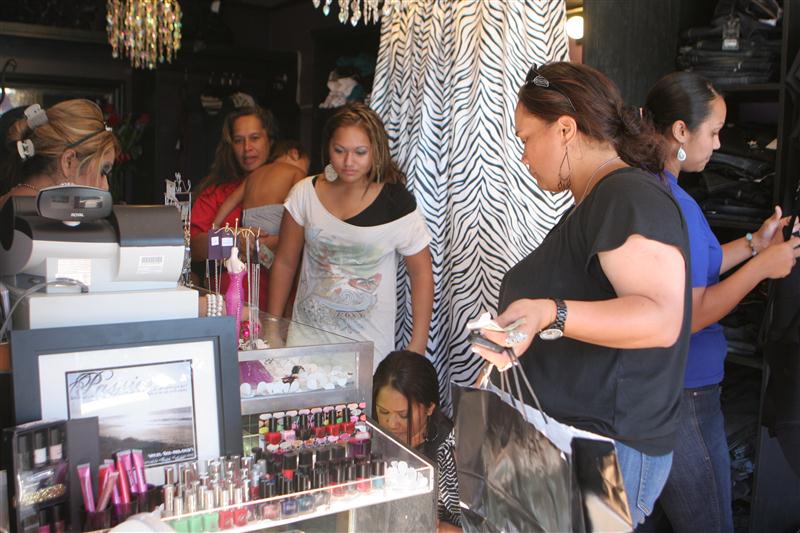 Horner's idea began as a whim, but when retail space became available at the closing of Maxum Fashion in Puali Place, she sprang into action.
"Everything just happened by chance and fell into place so quickly with the store," she said. "I was at the right place at the right time."
With a slogan like "Blinging out Molokai, one tita at a time," the grand opening event was a success as beaded rings and flower hairpieces flew off the shelves throughout the day.
"Business will be good if today was any indication of how popular the affordable and fun clothing will be," said Phoebe Starky, Horner's mother.
In addition to clothing and accessories for women, the boutique offers makeovers and eyebrow threading three times a week.
iCandie is open Monday through Friday 10 a.m. to 5:30 p.m. and Saturday 9:00 a.m. to 3:00 p.m. It is located at 145 Puali Place in Kaunakakai.