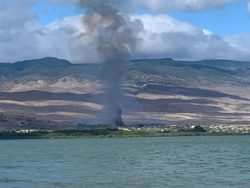 By Catherine Cluett Pactol
A brushfire above Ranch Camp in Kaunakakai burned about 50 acres Sunday afternoon.
Ranch Camp residents reported their homes filling with smoke but no houses were damaged or evacuated.
The Fire Dept. got the alarm at 3 p.m. and responded with three engine companies, two tankers, two helicopters, two callback crews, and two county and state tanker trucks. As of 5 p.m. Sunday, efforts to fully extinguish the blaze were ongoing but considered 70 percent contained, according to the Maui Fire Dept.
"Helicopters did a great job… was getting close to Kupa Place culdesac and everyone [was out] with their hoses and sprinklers," resident P.J.…