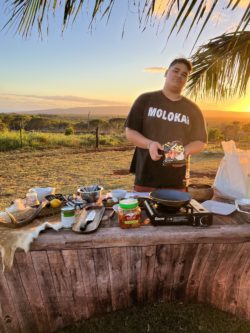 By Sage Yamashita | Intern Reporter
Something is simmering in a new Culinary Club at Molokai High School. The club's 28 students are learning and growing in the cooking and food industry with advisor teacher Tiare Hubbard. Two of the participating students are also bringing their talents to a local recipe and video contest.
Through the Culinary Club, the students learn to coordinate, plan, and create new recipes every week. Guest speakers also come in to teach each young cook.
Two students are bringing the heat by submitting their Molokai-made recipes to Hawaii's Food and Wine Festival competition, Localicious, this month.…