Father Damien's St. Joseph Church Rescued
Community Contributed
By Maria Sullivan, St. Damien Parishioner
St. Joseph Church at Kamalo is a State Historic site and one of the most visited on Molokai. Each year more than 4,000 Hawaii residents, visitors and pilgrims visit the church, built in 1876 by Father Damien and the Kamalo community. Today, due to the grace and generosity of many people, this 134-year-old church is being saved, so it can continue to tell the story of Molokai, and of one of its most famous residents, Father Damien.
In addition to his work with the Hansen disease patients on the Kalaupapa peninsula, Father Damien also served as pastor and church builder for the Catholic faithful who lived on topside Molokai. Of the churches built by Father Damien, St. Joseph Church at Kamalo remains in the most original condition. However, due to time, weather and termites the church was at risk of being lost. A windstorm this past April complicated matters by blowing off the cross and tearing a large, gaping hole in the church's eight-sided steeple spire.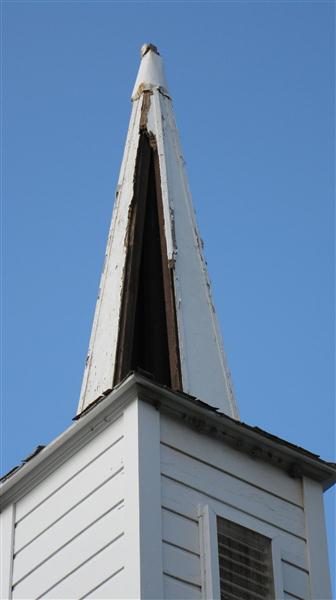 There are still substantial costs ahead to evaluate the structural integrity of the steeple, and to reinstall a new top spire. Father Guerreiro and the parish are hopeful that donors will come forward and join the parish in its effort to "Save the Steeple" at Father Damien's historic St. Joseph Church.
Help Save the Steeple
Make your check payable to: "St. Joseph Church Fund"
Attn: Fr. Clyde Guerreiro
Saint Damien Parish-St. Joseph Church Fund
P.O. Box 1948
Kaunakakai, HI 96748
For more information about the church and project, contact Maria Sullivan, St. Damien Parishioner (808) 553-5181; mjs@aloha.net