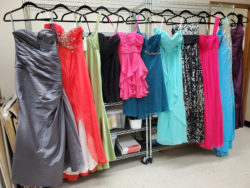 MEO News Release
The Bella Project prom dress giveaway on Molokai is scheduled for 9 a.m. to 3 p.m. Friday, March 17, at Maui Economic Opportunity in Kaunakakai.
MEO Youth Services on Molokai worked with The Bella Project officials on Oahu to bring more than 150 new and lightly used formal wear to the island for local youth. "The Gift of Glamour" event is set for MEO at 380 Kolapa Place.
The formal wear will be given away at no charge to the youth.
Donations are being accepted to supplement the supply from March 13-17. New or lightly used dresses, sandals, accessories, tuxedos, slacks, dress shoes and shirts are being accepted.…