New U.S. Citizen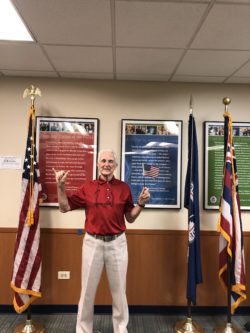 By The Molokai Dispatch Staff
Mike Prewitt arrived on Molokai in 2001 at the age of 62 as a citizen of the United Kingdom. Last month, he became a U.S. citizen.
"At that time [2001], I knew that Molokai was where I wanted to live," he said, saying for the next nine years, he stayed on a six-month Visa that required him to return to the UK twice a year to renew. "In 2013, I got married to my wonderful wife Maria Watanabe. After a few years I was determined to become an American citizen as I have always admired the American way of life. In January 2020 I started the process towards my citizenship and eventually after a delay due to the pandemic, I finally got my American Citizenship Inauguration on Nov. 30."
At the Immigration Center in Honolulu, Prewitt had to pass an interview where he correctly answered six questions on the makeup of the U.S. and other questions.
"I very proudly took my oath of allegiance and was accepted to be a citizen of the USA. It was one of the proudest days of my life," he said.