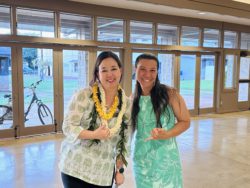 By Jack Kiyonaga, Reporter
Congressman Jill Tokuda, the U.S. Representative for Hawaii's Second District, is in the process of writing a letter to the Federal Aviation Administration (FAA) regarding Molokai's airline crisis.
"I'd like to create a thoughtful letter that really lays out the transportation crisis and vulnerability that exists," said Tokuda. "Right now, the only constant is that it is inconsistent," she added.
Tokuda explained to Molokai residents gathered at her town hall meeting held at Mitchell Pauole Center last Thursday that the FAA needs data on flight delays and cancelations along with personal testimony to make a difference.
Molokai community members related horror stories of family members passing away without loved ones and surgeries cancelled – all due to flight expense and unreliability. …