Shop Offers Design-Your-Own Apparel
Something for Everybody News Release
Something for Everybody celebrated its third year in business anniversary on Saturday, Aug. 8. There were #goodwaibes all around, food and music to be found and of course, something new going on.
"This yearʻs huliau (change in time) has lead us to grow and meet our customers' needs by allowing them to be a part of their wear," said owner Wailani Tanaka, referring to their addition of a custom designs and creations corner in the shop. "Here at SFE we're big on products that are relevant to our customers and their lives, and what better way to find that than by allowing them to be a part of that design process of their apparel and accessories."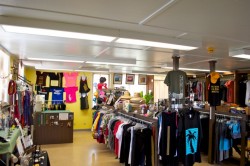 The store is now primarily stocked with brand new blank tops, bottoms, dresses, skirts, hats, even home decor and more that are all available for custom design from creation to print or press right in the store. Just like how these custom Delta Sigma Theta shirts are made from blank.
The store's space is also dominated now by its made on Molokai brand, Na Mea Molokai, that has grown to umbrella over a dozen local and Native artisans that Tanaka and her Na Mea Molokai crew have been traveling off the island to share Molokai's lifestyle and spirit physicalized through their products. The shop has been designing, printing, supporting and collaborating for their made on Molokai line since 2013.
"When we faced a slope in our business last August due to a high saturation in the clothing market, we focused on what we still had, and that was our something that we offered from our island, our Na Mea Molokai line," said Tanaka.
For the last year and a half, they have attended Merrie Monarch Events on Hawaii Island twice, Kalo Festival in Hana and the Made in Maui Festival at the MACC and have even participated in California and Oklahoma events as well. Something for Everybody's first Fall/Winter Fashion line was released at the first Annual made in Maui Festival last November, aptly named Aloha `Aina as homage to their aloha for their home valley, Honouliwai.
Something For Everybody has found their niche and is ready to serve up all things Molokai with a heavy dose of the cheerful aloha spirit. Something for Everybody is located at the Molokai Center at 40 Ala Malama Avenue in Suite 201 (otherwise known to locals as "da shop above American Savings Bank"). Store hours are 10 a.m. to 6 p.m. Monday through Friday, and 9 a.m. to 1 p.m. on Saturdays.
To keep up with Something For Everybody and Na Mea Molokai, visit facebook.com/somethingforeverybodymolokai, Instagram @molokaiwaibes or their website allthingsmolokai.com.