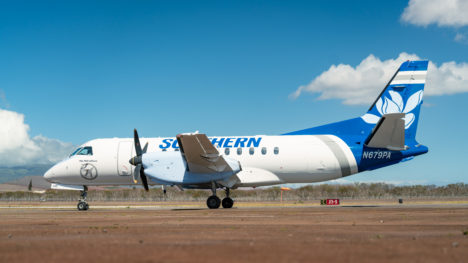 By Catherine Cluett Pactol
Mokulele's new 30-seat plane made its first landing with passengers on Molokai last week Thursday, and limited booking online is currently available.
The twin turboprop Saab 340, operated under Mokulele's parent company Southern Airways, is the first of two larger aircraft the company is bringing in to primarily serve Molokai and Lanai. Mokulele Chief of Staff Keith Sisson said the second plane will mainly be a reserve aircraft but on special occasions, both may be on the flight line at the same time.
"We are not going to publish a full schedule until the reserve plane arrives in September," said Sisson.…