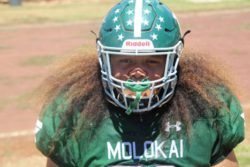 By Rick Schonely, Sports Reporter
Molokai High School graduate Vaai "Uso" Seumalo is on a mission. Last week Seumalo verbally committed to Kansas State University, accepting a football scholarship to the school, where he plans to finish his associate degree in the spring. Since graduating from MHS in 2020, he's been at Garden City Community College in Kansas. However, the 6-foot-4, 325-pound defensive lineman has been on the radar for Kansas State since he arrived in the state.
He'll be the first ever NCAA Division I scholarship football player from Molokai High's football program.
Seumalo is very humbled by his trail-blazing journey and the road is just getting better and better. …