Gift Local, Support a Dream, Part 3
By Sage Yamashita, Intern Reporter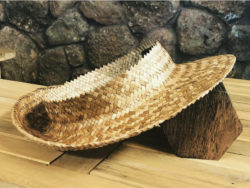 This holiday season welcomes Molokai-made products to the gift giving list to support local and bring unique presents to others. This week, The Molokai Dispatch spoke with the owners of two small businesses that create and sell products on Molokai. These entrepreneurs, Chrissy Tancayo and Tapuilima "Tapu" Hanapi, are the owners behind Chrissy Makes It and Aunty's Leis and Little Things.
Aunty's Leis and Little Things is located at the Ho'olehua Airport. It offers an assortment of goods from shirts and jewelry to lei and lauhala items for locals and visitors alike.
"The store was about to shut down and there was a possibility that the lease was going to go away to another vendor," said Hanapi. "So rather than having it go to someone from off-island or the mainland, I asked if I could take it over and kind of revive it."
Every item in the store is Molokai-made, something that was important to Hanapi. She wanted each vendor to have an extra push and more visibility in the store, on its website and on social media. With the store being at the airport, these featured Molokai brands gain a wide audience.
"The reason that I did it that way is because I was born and raised on Molokai, and I know the struggle of finding your niche or finding a way to be sustainable," said Hanapi. "My idea is that the profits immediately go back to the community, because the only people that sell in that shop are the actual community of Molokai."
Even though all vendors are from Molokai, none are the same. Every product is unique.
"My whole approach was to take it beyond kind of a cheaper airport store and elevate it to more of an art gallery feel, but still keeping the prices reasonable so that people from the community, all price ranges were covered," she said.
In store and online products from specialty food items to jewelry and hair picks can be found. Local brands that share a message like Kapa Curious with contemporary native Hawaiian kapa work and Sui Keala Native Jewelry, whose products highlight native Hawaiian flowers encased in resin.
Keeping the unique feel, Tancayo's home business Chrissy Makes It is all about customizing.
"When COVID hit, I wasn't sure if I was going to be employed with all the job cuts and everything," she explained. "So I needed to find something for myself that I would enjoy doing as far as working from home and something that I would enjoy and something that that I would be able to make money off of."
After doing some research on printers and machines, Chrissy ended up getting her first big purchase of a Glow Forge machine, a laser cutting machine. She started by creating a lot of woodcuts making nameplates, welcome signs for homes and woodwork cutting boards.
"I'm able to personalize it with family names or business logos," said Tancayo. "And then just recently, I ended up making another big purchase of a sublimation printer, which gives me the ability to print in color on wood, making basically anything that you could think of."
Chrissy Makes It's most popular product are wristlets, personalized and used to carry keys.
"I just personalize them with either people's names or business logos and I also do it for keychains."
Tancayo can be found on Instagram, @chrissymakesit and products can also be found at All Things Molokai, Puu O Hoku Ranch and Big Wind Kite Factory.
"I make it a point to shop locally for Christmas, for all the holidays, actually," said Tancayo. "Because there's a lot of talented people here on the island and I don't see any reason why we have to go out."
This season, Molokai entrepreneurs encourage shoppers to support the island's community by keeping your money local. Check out our Instagram @molokaidispatch to tell us your favorite places to shop on island or email us at editor@themolokaidispatch.com.