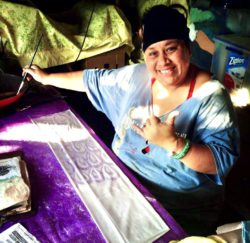 Community Contributed
By Na Heona Molokai
Na Heona Molokai (Artists of Molokai) is a group creating an exhibition titled "No Stop Light: Molokai" for the 3,600 square foot Downtown Art Center in Honolulu, in May 2022. In the coming months, we will introduce each artist.
What is your name, and what is your art form?
I am Kala'e Tangonan, and I do multi-media.
What is your connection to Molokai?
I was born and raised on Molokai. I'm never going to live anywhere else. This is my home.
What do you do besides make art?
I have a lot of kids so we are involved in a lot of things, community events, keiki fairs and Ka Hula Piko. …