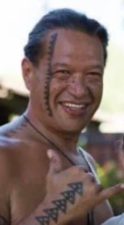 As the sunset slowly into the sea on August 20, 2022 Scott Kaʻuhanehonokawailani Adams took his final breath. Like the flash of green seen just as the sun makes its final descent he left his earthly presence to join his kūpuna.
Surrounded by his wife Mayumi Momilani Takeda-Adams, his mother, Sylvia AuHoy Adams, his children; Kealaokamaileawakea, Kawehihuneokawailani, Kamahinakalae, Kaulupamakealahou, Kamakahoominoaka and his sister Roxanne.
He is also survived by his brother Cole, his nieces; Malia and Eliana, his beautiful grandson Leimana and his many Uncles, Aunties, cousins and friends from across this pae ʻāina and the
entire honua.
Kaʻuhane was born to Walter Scott Kaʻuhanehonokawailani Adams and Sylvia Ann Mililani Sun How AuHoy Adams on May 23, 1967.…