Youth Photography and Puni Ke Ola
By Susana Helm, Jackie Ng-Osorio, Becka Adolpho – UH Manoa; Kanoelani Davis, Honeygirl English, Shaye Lauifi – Ahupuaʻa O Molokai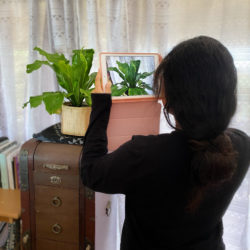 Puni Ke Ola (PiKO) uses photography to engage youth in learning more about how traditional Hawaiian beliefs and practices promote health and can eliminate substance use in their own lives, as well as among their families and communities. Led by Molokai Kumu Kanoelani Davis and University of Hawaii at Manoa professor Susana Helm since 2015, the photo strategy has been aligned with Hawaiian culture. In PiKO, haumana take pictures while they participate in culturally immersive huakaʻi.
This year due to the pandemic, huakaʻi will be conducted virtually until it is safe to go live again, so youth may take photos around their own homes and communities. Their photos emphasize culture, health, and positive youth development. The haumana then talk in small groups called ho`ala sessions, facilitated by the kumu, to strengthen the link between culture and health in their naʻau, manaʻo, and hana. We end the year in May with a hoʻike, to celebrate with the community.
In the past decade, kupuna and other community leaders and haumana on Molokai developed the PiKO intervention – Uncle Wayde and Auntie Adele Lee, Auntie Vanda Hanakahi, Kanoelani Davis, Auntie Kammy Purdy and Kilia Purdy-Avelino, as well as numerous ʻopio, in partnership with the UHM team.
Puni Ke Ola translates to "life flourishes in a healthy community." PiKO is doing just that – promoting healing and leadership among haumana so that Molokai families and communities may live healthy lives free of alcohol, tobacco/vaping, marijuana and other substance use problems.
The PiKO program has been based at the Native Hawaiian library in the Hawaiian homestead community of Hoʻolehua. The board of the homestead association nonprofit called Ahupuaʻa O Molokai (AOM) voted to steward the program as a way to ensure that the intellectual property of the PiKO intervention is owned by the community rather than the UHM. Ahupuaʻa O Molokai continues to partner with UHM. In 2019 UHM received a grant from the State of Hawaii Department of Health to work with AOM to expand PiKO on Molokai.
Taking lessons learned from this upcoming school year on Molokai, in the future PiKO may be expanded for use in other Hawaiian communities across Hawaii. Mahalo to the funders who have supported this work: Queen`s Medical Center, Society for Community Research and Action, UHM-Diversity and Equity Initiative, UHM-Department of Psychiatry's Yates fund, American Psychiatric Association Foundation-Diversity fellowship, National Institute of Minority Health and Health Disparities, and the State of Hawaii Alcohol and Drug Abuse Division.
For 2020-2021, Ahupuaʻa O Molokai is enrolling seventh grade and older 'opio to join PiKO. To enroll or for more info, please contact Auntie Honeygirl English at 808-658-0815 or puni.ke.ola.mkk@gmail.com. Please attend our community info meeting on zoom on Wednesday, Sept. 30, at 5:30 p.m. RSVP with Shaye Lauifi (808-658-9322) to obtain the zoom link and password.