Your May Day
Mahalo to all who sent us your photos for our May Day contest! We couldn't choose just one, so here are a few of our favorites, with some words from the photographers.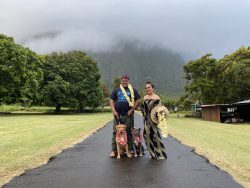 Submitted by Jessica Sanchez:
Aloha from Kalaupapa! Jessica Sanchez and Albert Espaniola with dogs Hulali and Hooch.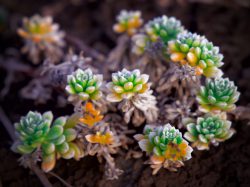 Submitted by Eugene Santiago:
I'd like to submit this photo I took on the beach… to recognize the Hinahina for its subtle beauty that gets overlooked many times, just because it's a ground cover. I discovered its beauty after being curious and getting on my knees to get a real close up look and what I saw was truly amazing.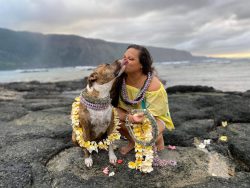 Submitted by Meilee Kahe'e:
Myself and my Lady with some leis that the kupuna here in Kalaupapa and I made for May Day. This picture was chosen to enter by one our kupuna, she said, "Everyone deserves aloha everyday."