A Young Hawaiian Surfer with an Old Spiritual Soul
Local boy Kaoli Kahokuloa making waves in Oahu.
By Jodi Wilmott, Hawaii Surfing Association – Hard Rock Café Surf Series
With one foot in Hawaii's past and the other in surfing's future, 14-year-old Kaoli Kahokuloa has an opportunity to carry the ancient sport of he'e nalu forward in its true spirit and culture. Kaoli and his family embrace the blessing of his talents, but understand it is a privilege not to be taken for granted.
"We want to do it the old style way," says his soft-spoken father, Pulani. "Always stay humble, no matter what the result, and always come out smiling."
Kaoli has plenty of reasons to smile. He is turning heads around the world with his futuristic moves and a style that's as fluid as the ocean itself. At 14 he's doing well in state and national competition, and his gravity-defying aerials are gaining international recognition. He recently secured a grant from the Outrigger Duke Kahanamoku Foundation to support his surfing progress.
This is a kid who killed his pet pig Houston, turning it into pork lau lau, to sell for the money to enter his first surfing competition. He was seven then, living on Molokai, and determined to enter an HSA (Hawaii Surfing Association) contest on Oahu. Seven years on, Kaoli is now a regular finalist in HSA's Hard Rock Cafe Surf Series. This weekend past he won his division at Sandy Beach.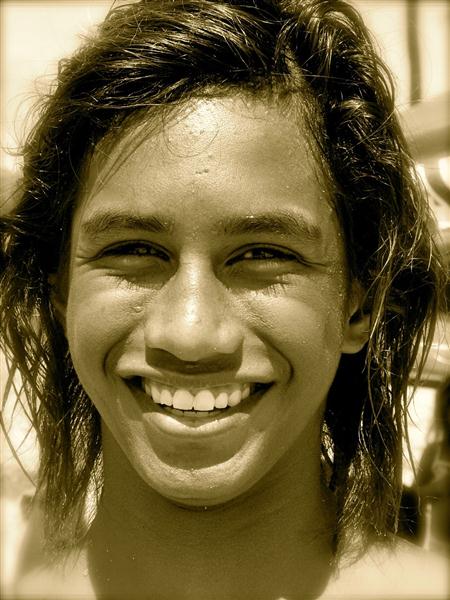 Just a few weeks shy of his 15th birthday, Kaoli is about to hit the critical age of every young aspiring athlete. It's make it or break it time and the quiet boy with the old-world Hawaiian style and firm faith is going for it.
Kaoli is the oldest of eight children who range in age from nine months to 14 years. His father is from the "Forbidden Island" of Ni`ihau, a place where the English language is rarely, if ever spoken. His mother is from Molokai, still a world away from city lights and fast-paced living. The Kahokuloas reside on Oahu now, but have retained the simple life that they say is focused on God first, and family second.
The whole family supports Kaoli's budding career, but Kaoli has responsibilities to the family in turn.
"He's lucky if he gets to surf four hours a week and a lot of times the place we end up at isn't really great for him, it's great for them," says his mother Elea, nodding towards the little ones.
While he waits to compete in his HSA heat, Kaoli plays around with the rest of the kids under the shade of their pop-up tent. Three of them are Kaoli's full-blood siblings and four of them have been hanai-ed, or taken in by his parents as their own. There is no distinction. His parents ask nothing of the kids, yet they respond automatically to the needs of each other. It's a marvelous illustration of the Polynesian family tradition: respect, heart-felt responsibility, and love.
In preparation for his next heat, Kaoli and his father discuss his approach, all in Hawaiian. Somehow it seems much more than a language. The words sound poetic, almost haunting, and bring a sense of ancient story to the situation. It's as if his father is giving him all the mana he needs to go and ride the waves. It feels like he has the edge on his rivals already.
Kaoli goes on to win the final then returns to life as usual with his family. For these Hawaiians, life isn't about surfing so much as surfing is an outlet to express and share their Hawaiian, spiritual and family values.
Like guiding lights through the generations, Hawaiians such as Duke Kahanamoku and Eddie Aikau have respectfully carried forth the sport of surfing with a reverence for its roots and a desire to share their culture with people around the world. It wasn't titles or fame that led the world to embrace Eddie and Duke, it was their spirit of humility and aloha, and their willingness to share it one-on-one with all whose paths they crossed.
The hope that the Kahokuloas hold for Kaoli's surfing career is that it provide him an opportunity to share his spirit and bring respect and understanding to his culture and values. If worldly success comes with that, too, it will simply be a bonus.
Ask Kaoli what he aspires to in surfing and you get a simple, satisfying answer:
"To enjoy surfing, everywhere around the world."