Year of the Rabbit
Due to popular demand, Mr. Kenneth Y.K. Nip has put up his Chinese New Year theme display at our Kaunakakai library, and soon after he joined some neighborhood kids to welcome in the Year of the Rabbit at Mel Chung Gunsmith's shop.
Pictured are Peter Gonzalez, left, and his two granddaughters at Mel Chung's shop. The bunny rabbit hat with the familiar Kung Hee Fat Choy New Year greeting on the girl's head in pink was a Kamehameha school project on Chinese culture. Mr. Nip (right) and Mel Chung are wearing the Molokai Commemorative Chinese Lion Dance shirt from the 2010 Chinese New Year celebrations.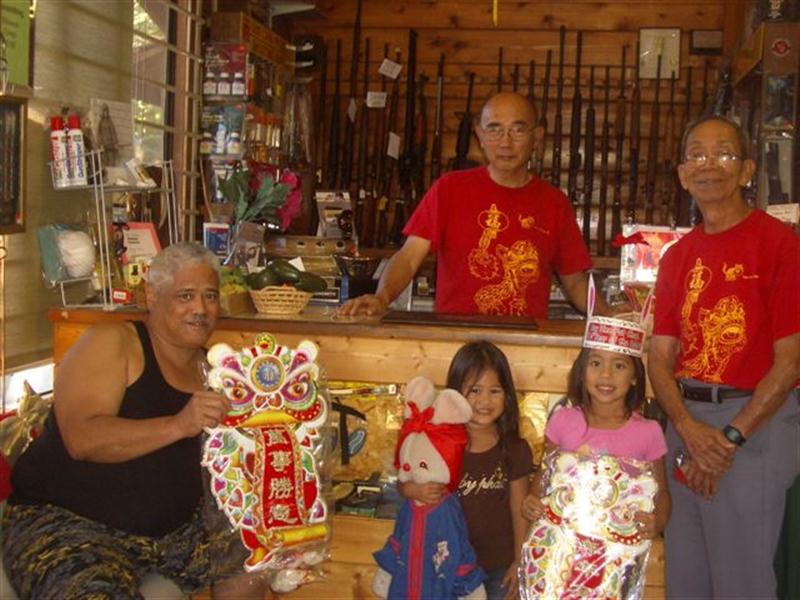 A few Molokai businesses went with the Chinese good luck color red for our New Year attire. Maria Watanabe of Imports Gift Shop is wearing a traditional Chinese blouse, hand carried from her recent trip to Singapore. Mel Chung of Shop 2 & Beauty Salon, as well as Imamura's are festively decorated with Chinese New Year theme ornaments. All of these stores served refreshments to customers on this first day of the Chinese New Year!
Lucky we live Hawaii, particularly Molokai, where we share and embrace each other's culture and enjoy life.
Mel and Mrs. Chung