Wrestling Smack Down
Molokai youth take on Maui competitors.
A mass of vivacious fans packed The Barn last Saturday – some streaming in to see their tough keiki, others from off-island – as they cheered on about 230 competitors who faced off in Molokai's wrestling invitational.
The Molokai Wrestling Club dominated its own tournament, beating out nine other Maui clubs with a total of 143 points – more than double the score of runner-up Central Maui Style with 67 points. It was the Friendly Isle's first win of the Maui Style Wrestling season.
Molokai was the largest team represented with about 75 youth – ages 5 to 17 – competing. Sixteen of those youth went home champions, while another 22 were runner-ups.
Among the other clubs to contend were Upcountry Wrestling Club, Central Maui Style, Lahaina Roughnecks, Napili Surfriders, Kihei Maulers and Central Razorbacks, Punahou Pumas, Lanai Ka'ulula'au and Maui Makali'i.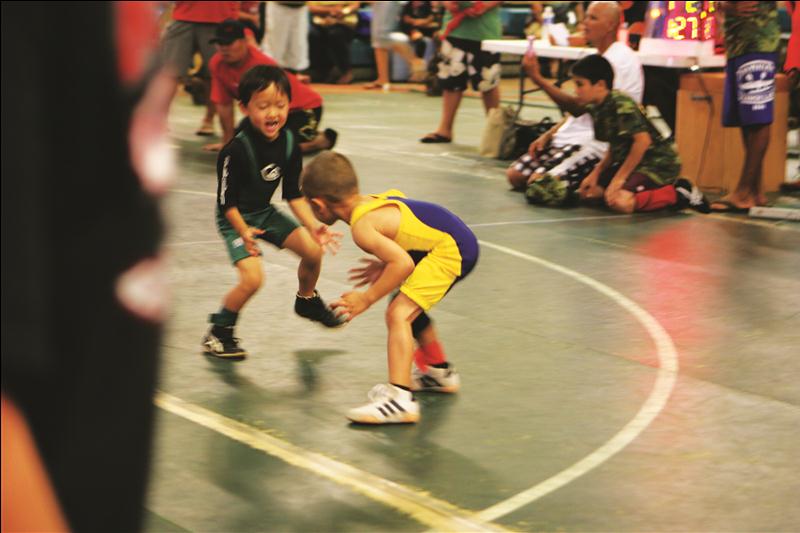 has become bigger than Molokai," he added. "It's great to see our wrestlers be able to compete in front of their home crowd."
The club has two final matches, one this weekend at Wailuku – where the team will bring over about 20 of its 80-something wrestlers – and the state tournament on May 15 at the Civic Center on Maui.