Wrestling on Display
Community Contributed
By Louise Manley
On Thursday evening, Jan. 8, the Molokai High School (MHS) Farmers' Barn stirred with excitement and anticipation as family and friends in the community gathered to watch an inter-squad competition between the "green" and the "white" teams of the MHS Varsity Wrestling Team.  Head coach Randy Manley along with assistant coach Kawika Kaahanui have been working with their team since mid-October in an effort to prepare each member with physical endurance, equip them with the knowledge of the sport, and develop in them mental toughness. The team currently has 15 girls and 15 boys on the roster.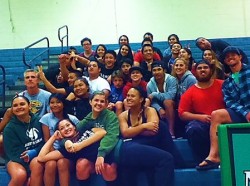 Though a wrestling team receives a collective score at each tournament, that score is based on the outcome of multiple individual competitions where one wrestler faces off with his/her opponent on the mat.  As seen in last week's event, the competition can prove to be intense for the both the participants and those watching!
Though other wrestling teams in the Maui Interscholastic League (MIL) have already had multiple opportunities to compete in tournaments this season, our wrestling team has been somewhat disadvantaged due to a lack of financial means.  In order to compete, we have to have the monies to travel.  Due to the limited funding of our MHS athletic budget, the wrestling team has only been allotted monies to be able to travel to a total of two tournaments this season, and yet there are a total of six tournaments being hosted.
The event last week was held in an effort to provide each wrestler with an opportunity to experience real life competition in front of a crowd, to afford our community a chance to see their keiki in action, and to offer to the wrestling team an opportunity to raise monies in hopes of traveling more.  Should you be interested in financially supporting this team feel free to contact Randy Manley at 567-6464 or molokaibaptist1@hotmail.com.
A big mahalo for all who help make this such a success.