Woof of the Sea
On New Years' Day, Larry Dell of Kaunakakai was woken up by a call from the Molokai Princess ferry captain, explaining that his dog had gotten on board the night before and was being brought back on the morning ferry. Here is a possible account of what was going through Dell's dog, whose name is Come-Heres, mind.
In that lazy few hours after I patrol the neighborhood for miscreants, but before the food usually appears in my bowl next to my water, it happened. The noises, in quick succession and so loud I jumped every time, my ears ringing. The noises are followed by a white cloud of smoke, and sometimes a bright light, momentarily high in the sky.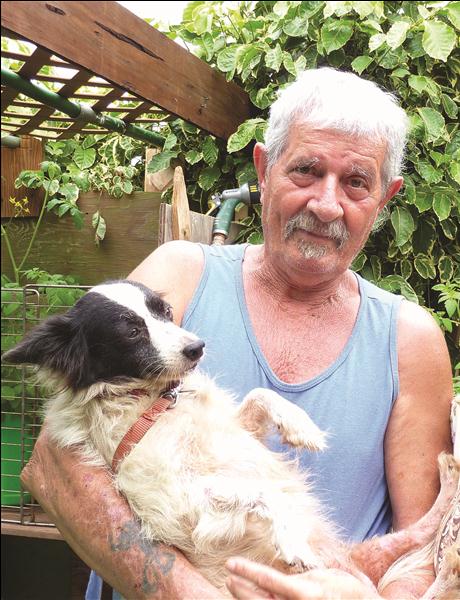 I was scared. I remembered these noises before, so where was Gloria? She took care of me sometimes, calling me "Come-Heres," cuddled me up in her arms and I could bury my nose till it all went away.
I decided to head down to the place where those big boats came in and there were lots of people around, and I could get them to scratch my ears and pat me down for a wag of my tail. Haha, suckers. I looked for the group of people who I see a lot, if they could take me with them. It was still light outside, but no one was around.
As it started to get dark, the noises got louder and the lights up in the sky more, like big fireflies. I was afraid they would land on me. So I decided to get onto one of those boats I'd seen a lot, and where lots of people were. I saw it move, and decided to jump. How scary, I almost lost my grip as I scrabbled on board.
It was confusing; so many people and big boxes with wheels on them. I found a place where I could feel the salty breeze, and started to relax. Then someone found me! A guy picked me up and brought me inside. There was talking going on, then I was put outside again on a rope.
When the boat stopped moving, the air tasted different. I realized I had really left home.
The next morning I woke up, still on the boat, which was moving again. When it started to slow down I could smell home again, and thought, 'how nice of them to bring me home!'
It was a bright morning when I walked off the boat, and then I saw him! My caretaker, Larry, was waiting for me as if he knew I was there all along (…but he didn't, he thought I was under his house).
I got lots of hugs and petting and scratches, and when we got back to our home, food! Oh, I was so hungry. Ever since that day, with the fiery noise makers and the boat, I decided to stick close to home.
I still go to the by the ocean, where the air is fresh, but steer clear of the boats. I discovered I get sea sick.
——————————————————————————————–
For the human account, please check out the story here: http://www.themolokaidispatch.com/dog-sea