Winning Big at Molokai Stampede
At last month's Molokai Stampede, nearly 100 teams and hundreds of cowboys and girls competed for the largest cache of prizes that rodeos in the state of Hawaii have to offer.
In its fourth year, the rodeo has gotten bigger and better, said Kapualei Ranch Manager Reyn Dudoit. The cash and prizes this year totaled $25,000, ranging from saddles to a horse and a TV.
"Our main focus was to put in [whole] roping – it's what draws everybody to the island," Dudoit said, adding that they also included women's and kid's roping that off-island rodeos don't usually offer.
The big prize – a quad ATV – is the biggest roping prize in the state. To earn it, a roper has to have a sharp horse, draw good cattle, have reliable partners and luck, according to Stoney Pocock. His 15 years of experience helped him win it.
"It feels good any time you win something like that," he said. Pocock is also Dudoit's son-in-law, and was on hand to help set up the rodeo he competed in.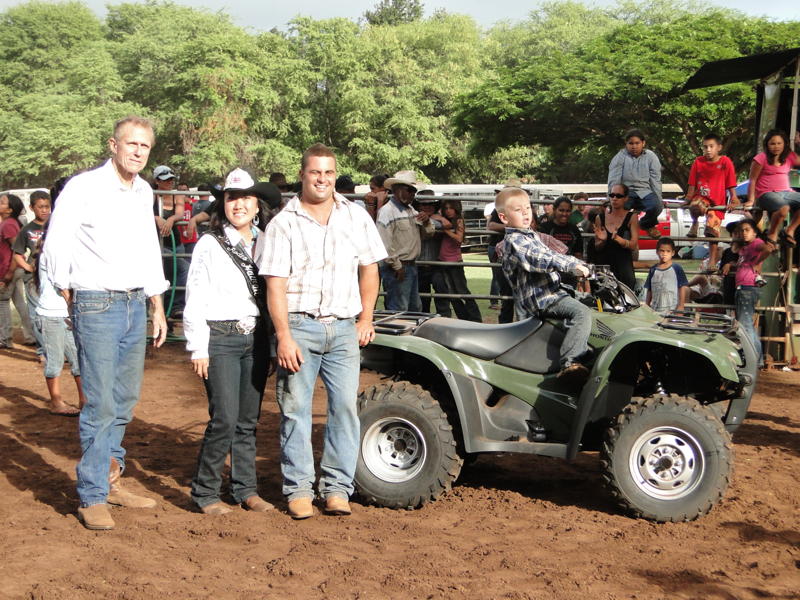 The ranch goes by American Cowboy Team Roping Association standards. Pocock is a three on a 10-point scale, but the standards are severe – his wife Real said the highest roper in Hawaii is a five.
Each contestant may enter with six partners, who rely on each other to gain points. As the contestants compete with each partner, points are awarded to the team with the fastest times. Points are also awarded to the team with the fastest times on 3 go rounds, or an "average," according to Real.
Prizes are an important draw for rodeos since riding horses is an expensive hobby.
"For us, it's a family oriented thing," Real Pocock said. "My kids rope on the dummy…If it wasn't a hobby I could drive a Ferrari."
With a barrel of hay costing just $7 on the mainland and $30-plus in Hawaii – plus shoeing, veterinarian care and other upkeep – roping is a sport you have to love.
"It's worth it just to see our family do things that they love," she added. "And be able to go back to Molokai."