In With the Wind
Molokai resident crafts portable wind generator.
Molokai has Frank Leary to thank for some of its most iconic symbols. The "Aloha – Slow Down" sign at the airport? Leary's work of art. The Post A Nut program? That's Leary's idea too. Now his latest creation is ready to power up – literally.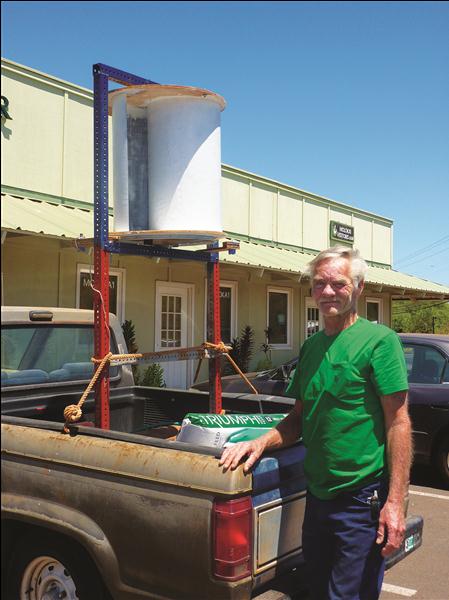 stops and then it starts and then it stops," he said. "This one keeps going."
The turbine is also omni-directional, which means it doesn't need to change direction to face into the wind. According to Leary, the design is a major improvement over traditional windmill designs.
Leary's model is made of carbon fiber. It took him about a month to build and cost $1,000 in materials. It's two feet tall, 30 inches wide and weighs less than 20 pounds.
Equipped with a standard car alternator, the Easy Rider is designed to charge and maintain 12 volt deep cycle batteries, which are designed to produce steady amounts of power over long periods of time.
The generator will produce five to ten amps – not enough to power a house, which takes about 40 amps, but plenty for a camping trip or power outages.
Leary said he plans to make a larger version of the Easy Rider that will produce more power.
He has tested the turbine on the Kaunakakai pier and said he has seen "fantastic results," along with a few curious stares while driving around with the generator strapped to the bed of his pickup truck.
"Cars almost come to a dead stop looking at it," he said.
When it comes to alternative energy, it's not just a hobby but a lifestyle for Leary – his Ho`olehua home is completely off the grid, powered instead by solar panels and a wind generator he constructed.
Years in the Making
Leary first became interested in wind generators after reading an article about them in Popular Science magazine.
"It was one of the greatest inventions in the world," he said.
With no formal training, Leary set out to teach himself the inner workings of wind generators. He made his first turbine out of two Styrofoam cups and has since experimented with different materials like plastic, fiberglass and metal.
"Carbon fiber definitely works the best," he said.
He builds his generators in the carport off his Ho`olehua home alongside his dogs, cats, chickens and goat. His unconventional workshop matches his out-of-the-box designs.
"I see so many things wrong with the big generators — it takes so long to get them up and they're not portable," he said. "This is portable."
Leary said other generators he has made have lasted five years and even survived the 80 mph winds of Hurricane Iniki in 1992.
Leary's Legacy
Here on Molokai, Leary's best known work is probably the "Aloha – Slow Down – This is Molokai" sign he put at the entrance to the airport about 20 years ago.
"I saw a lot of people doing things that they shouldn't be doing like speeding and tailgating," said Leary, who previously worked as an ambulance driver and knew the tragic consequences these behaviors can have.
"I think the sign has saved some lives," he said.
Leary's creative legacy also includes the Post-A-Nut program, which he started in 1990 with his wife Peggy Keahi-Leary, former postmaster at the Ho`olehua Post Office.
Leary said the idea came to them when they used to watch coconuts being hauled off to the landfill. Over the years, Post A Nut has aided post offices here as profits and funding have declined. Over 50,000 coconuts have been sent from the Ho`olehua Post Office alone since the program began.
Interested in hearing more about wind generators and the Easy Rider? Email Frank Leary at franklyfrank41@hotmail.com.