Wind Resistance
Molokai reacts to state plans
The state, in conjunction with federal agencies, is moving forward with a plan which could connect Oahu, Maui, Lanai and Molokai by an undersea power cable. The cable would funnel wind-generated electricity from the three smaller islands to Oahu. Public input on Molokai has so far been negative.
Up for discussion – or non-discussion in the case of last Thursday night's meeting at the Mitchell Pauole Center – is whether or not the state should proceed with the monumental interisland energy project, currently estimated to cost $1 billion.
Meeting attendees were visibly frustrated when they were told by state representatives that questions about the project could not be answered. Instead, procedural information was all that was shared.
A group of about 10 protestors stood outside MPC with signs declaring "Hawaiian Way or No Way" and "Ask Da People First."
"This is not a done deal," said Dawn Chang, the meeting's facilitator and the project's outreach specialist, before she opened up the floor to comments.
"My community really [doesn't] know what's going on," said Molokai Planning Commission member Lori Buchanan.
"If I don't understand [and] it's shoved down our throats; I don't want it," said Barbara Haliniak, president of the Molokai Chamber Foundation.
"I know it's frustrating for you guys," said Josh Strickland, head of Renewable Energy Programs in the state Department of Business, Economic Development and Tourism (DBEDT). He added that the meetings are designed to help the state identify which questions the study will answer and what kinds of impacts the project could have.
A Detailed Study Begins
The federal Department of Energy (DOE) and the state are working together to draft a programmatic environmental impact statement (PEIS) which assesses whether it will be worthwhile for the state to proceed in building the undersea cable.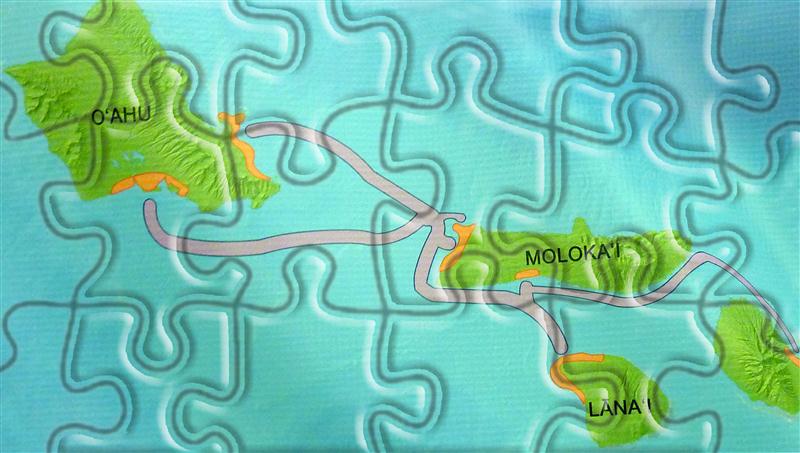 say they going to give us," he said.
Chaikin said he also wanted to know who is the deciding body in accepting the project.
"You need to lay out exactly how the Molokai community will be involved in this process," Chaikin told the officials.
DOE advisor Tony Como told the Dispatch, the DOE, the Department of the Interior, the Corps of Engineers and the National Oceanic Atmospheric Administration (NOAA) all have an "approval role."
But Steve Lindenberg, senior advisor at DOE, said they are stewards of the process and that the community will make the final decision.
"We're hoping very earnestly to help the people of Molokai understand what's being proposed," he added. "No one here has all the answers."
Future Participation
In the meantime, Chang said PEIS officials would like to hold a more informal, culturally-appropriate meeting for Molokai before the draft PEIS is released in the fall.
"You know this, it's your job to tell them," Buchanan said to Chang, 'them' being the state officials. "That's why you got people boycotting outside."
Hawaiian rights activist Walter Ritte hosted a wind farm-related discussion on Molokai two weeks ago arguing a boycott of the state-sponsored study until meetings could be held in a more culturally appropriate manner. Ritte led the boycott outside last week's state-run meeting.
The PEIS officials said there is still time for community members to have their voices heard. Scoping ends March 1, and residents of all islands can submit comments at the program's website, hirep-wind.com; email hirep@dbedt.hawaii.gov; fax to (808) 586-2536, attention Allen Kam; or by mail to State of Hawaii, DBEDT, P.O. Box 2359, Honolulu HI 96804, attention Allen Kam
Ranch Weighs In On Wind
MPL holding wind energy informational meetings:
March 2, Mitchell Pauole Center, 5:30 p.m.
March 3, Maunaloa Rec Center, 5:30 p.m.
March 4, Kilohana School, 5:30 p.m.