Wind: A Cultural Perspective
Windmill T-shirt contest winners.
Community Contributed
By Walter Ritte
One very stormy night in 1978 in Pelekunu Valley, the winds were nearly 100 miles an hour with the valley acting as a funnel, channeling and bouncing the makani off the valley walls. In the darkness, as I was tying down our hale (house) with all the ropes I could find, I yelled at pu`upilo, the winds of Pelekunu, to leave my house along. I kept screaming at pu`upilo as I tied down the entire hale. When morning came my hale was still standing, but every leaf in the valley was blown away. Pu`upilo left a bare and scarred landscape. Yet, my wife, three young children and I remained safe.
The story of the wind gourd La`amaomao recounts the names of the many winds in Hawaii and how they were harnessed and used by Hawaiians at their calling. The wind gourd of Hina is also famous. The winds of Ho`olehua are famous in song and dance as they blow through the grass plains of Ho`olehua. The names of the winds of all the different ahupua`a of Molokai are identified in Catherine Summer's book, "Molokai: A Site Survey."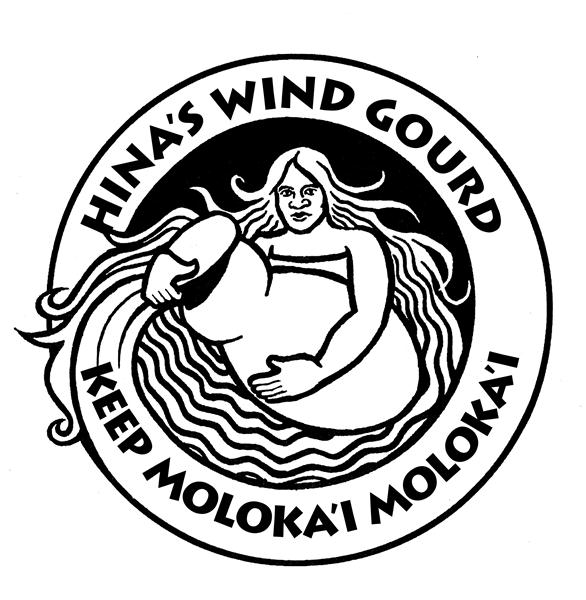 Should a big wind farm be established on Molokai to supply Oahu's needs, it will have an enormous impact on our small island. Molokai will become important to the lives of the people who live on Oahu. They will become dependent on a resource from our island in their daily lives. Is this an opportunity or a curse? This will depend on who has control of the wind gourd.
(Originally appeared in Sust`AINAble Molokai newsletter.)
The first two winners from the list of those who have signed the community petition called "Stop Molokai Ranch Windmills" are Tarrah Horner and Catherine Kawamae. Come by in person to The Molokai Dispatch at the Moore Center and pick up your beautiful shirts.
To be eligible to win, just sign any one of the yellow petitions found in many of our stores and your name could be randomly picked. We will pick two names every two weeks.
You can also purchase these 'Hina's Wind Gourd – Molokai's Kuleana' T-shirts for $13 at two locations: The Molokai Dispatch or Pancho Alcon Ltd., the new home of Hawaii Finest LLC T-Shirts.