William Scotland Harris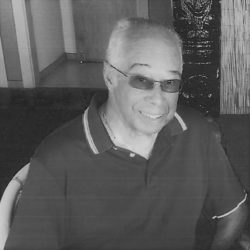 William (Bill) Scotland Harris passed away peacefully, surrounded by family, June 28, 2021. Bill was born Aug. 1, 1925 in Baltimore, Maryland where he grew up with his sister, the late Gloria D. (Harris) Moore and brother, the late Clarence J. (Sonny) Harris.
After graduating from high school, Bill served in the U.S. Marine Corps from 1943 to 1952. Bill later made California his home where he moved through the management ranks at the Department of Corrections, Kaiser Steel and California Steel.
In 1967, the late Irene Harris and Bill welcomed their son Scott Landon Harris. In 1976 Bill and the late Dorothy (Dottie) Harris and Chris Harris became a family.
In the early 1980s, Bill and Dottie began traveling to Hawaii. When they got to Molokai they knew they were home. Bill lived on Molokai for 20 years, never tiring of his quiet life there.
Bill is survived by his sons Scott and Chris Harris; his grandson Corey Harris and granddaughter Brooke Harris and his great-grandson Landon Harri;, his daughter-in-law Cindi Harris; granddaughter-in-law Elizabeth Harris, nieces Rosalind Harris, Barbara Harris-Jones and Dyane Moore-Boyd; nephews Gary, Mark, Bruce and Michael Harris; many grand and great nieces and nephews; and many, many good friends.
A celebration of Bill's life will be held at Grace Episcopal Church (2210 Farrington Avenue, Ho'olehua, HI 96729) on Saturday, Aug. 7, 2021, at 1 p.m. In lieu of flowers, please consider a donation to Grace Episcopal Church (P.O. Box 157, Ho'olehua, HI 96729).