Why Band Birds?
Community contributed by Arleone Dibben-Young.
During the recent Krazy for Kolea Kontest, I was asked "Why band birds?" In response, the marking of birds for the identification of individuals is an essential tool for the research of behavior and social structure, populations, productivity and longevity, survival from disease, or management challenges. Since 1909, more than 63,000,000 birds have been banded in the U.S. Of the 2,000 Master Bird Banders nationwide, only 50 are authorized by the U.S. Geological Service to band in Hawaii, including myself.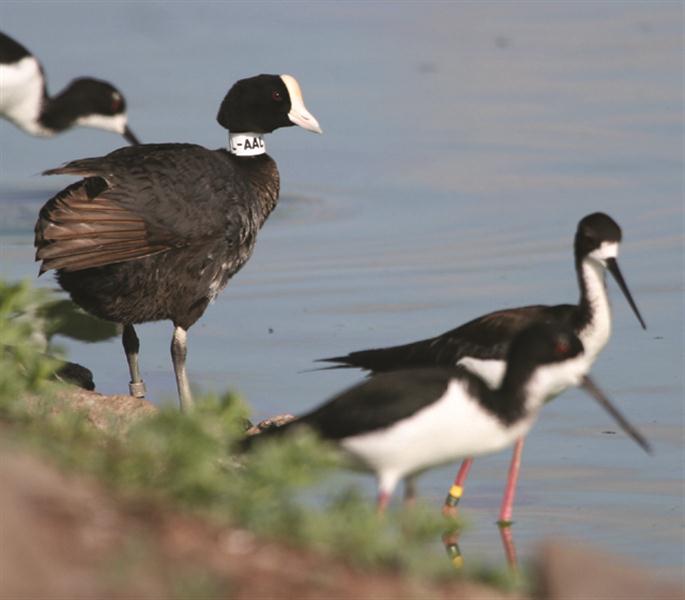 In 2005, I began a study on avian botulism, a debilitating, often fatal disease that affects primarily wetland bird species. The study sought to identify the connectivity of Molokai wetlands by bird usage in order to manage outbreaks and improve response time to the disease. The study has since expanded to other islands and involves the tracking of birds by the use of leg and neck bands, called collars.
One of the waterbird species marked for this study is the endangered Hawaiian Coot (Fulica alai), which moves between wetlands, typically triggered by rainfall events and seasonal habitat changes. Phase one of the study is to detect individual coots that have made a roundtrip to another island. These birds become candidates for satellite transmitters in the second phase that will identify the routes the birds use and how long the flight takes. This is important as waterbird species infected with the botulism toxin can travel to another island in about an hour and spread the disease by dying in other wetlands, thereby affecting other species and populations.
Tracking birds on Molokai takes commitment and a substantial investment in time to locate banded birds. I census Molokai wetlands and manmade impoundments (reservoirs, wastewater plants, aquaculture farms, siltation-filled fishponds) several times a week. By surveying on a regular basis an interesting pattern has emerged: the Hawaiian Coot crosses the ahupua`a of Kaluakoi inland between manmade water resources, while along the south coast of East Molokai, fragmented coastal brackish or spring-fed natural wetlands are utilized. All these sites are most likely shared by coots from James Campbell National Wildlife Refuge (NWR) on Oahu and Kealia Pond NWR on Maui that have been observed in Kaunakakai. The Hawaiian Coot moves frequently between Ohiapilo Pond Bird Sanctuary in Kalamaula and the Kaunakakai Wastewater Reclamation Facility to the Kualalpuu Reservoir, and Kualapuu, Maunaloa, and Kaluakoi Wastewater Treatment Plants, with the now defunct Kaluakoi Reservoir atop Puu Nana when filled by rainfall as a probable mid-transect stop-over site.
Tracking where and how Hawaii's endangered waterbirds and federally protected migratory birds move helps identify how specific locations are utilized and habitats that may be overlooked by current protection efforts. Tracking also provides data to assist wildlife managers when writing endangered species recovery plans or reviewing habitat conservation plans proposed for habitat altering activities. Bird movement data will play an important role in the future on Molokai when proposing wetland restorations, conservation easements with private landowners for the protection of certain species, and bird mitigation measures by future alternative energy power facilities.