What's Up Maunaloa
Community Contributed
Column by Kehau Pule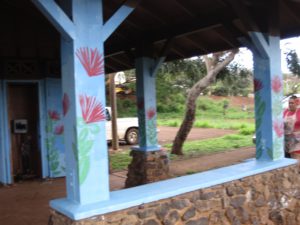 Okay, here is the latest scoop regarding our Maunaloa Community Park. We are reviving our park so that everyone can enjoy, have gatherings with ohana and it can be utilized as a safe and fun area. Over the years, the park had numerous makeovers and I pray that everyone will maka`ala and malama this park for a long time. Mahalo to Sonny Laemoa for mowing the area and Chris Chang and his group on the mission who cleaned and raked the park from all debris. A very big mahalo to Kalae Tangonan and friend who passed by the park and saw the building so run-down and gave it a paint make-over with some beautiful designs. Wow! How awesome is that and they don't even live in our community. God bless you all for caring.
The Heart of Aloha Ministry will be doing an outreach at the end of the month in trimming the trees and hedges. Mahalo Pastor Cameron and gang! Right now about six families of Maunaloa are making a picnic table to donate within the park area dedicated to their loved ones who have passed on. My ohana and I will be donating a table on behalf of my sister, the late Maxine Macky Manintin, who lived in Maunaloa for many years before passing.
Here's a little friendly warning: To those individuals who will be thinking of damaging our park or picnic tables again, think twice before you do it, because you will answer to the families of these loved ones who have paid for these tables, and be reassured that they will be knocking on your door, including yours truly. Just to name a few of these families is the late Auntie JoJo Espaniola and DB Espaniola, the late Amos Kalilikane, the late Uncle Joe Pele, the late Mercedes Espaniola, the late JoeBoy Mawae, the late Uncle Larry Palmer.
Come on, this aunty is tired of painting tables and believe it or not I did go under these picnic tables and paint, it not an easy job, so please no go breaking glasses, or break our toilet for the thousandth time. Also can't forget my hubby Uncle Pule for taking some of the trash to the dump, and for the monetary donations that came in to help with our make-over – thanks a million gang. You guys are the bomb! So keep reading my articles and follow the progress of our rejuvenated park as it comes alive again.
This is your Roving Reporter closing with this thought of the day, "Don't think that the details of your day are too insignificant to bring before God. He cares enough about the hairs on your head to number them, then surely He cares about the things that fill your day." – Stormie Omartian. Love you all and have a blessed day and no hu hu with anybody, okie dokie.