What's Blowing on Lanai
Wind moves forward as residents say no.
A wind farm on Lanai came one step closer to becoming a towering reality last week. Hawaiian Electric Company (HECO) and Castle & Cooke announced reaching an agreement on electric rates and benefits to residents once wind power is up and running on the island. But grassroots organizations and community members on the island say the wind farm deal is "not inevitable."
Like the proposed wind farm on Molokai, all energy generated on Lanai would be sent to Oahu via undersea cable. The proposed rates would cut Lanai's electric rates to match Oahu's. If a 200 megawatt (MW) wind farm is built, Lanai would pay 13 cents per kilowatt-hour (kWh); if Lanai builds 400 MW farm, residents would pay 11 cents/kWh, according to a Castle & Cooke release. The "levelized rates" on Lanai would be about 35-50 percent less than residents are paying now, according to Peter Rosegg, HECO spokesperson.
Other proposed benefits to residents include a commitment from HECO to make Lanai's electricity 100 percent renewable by 2030 and Castle & Cooke to give 1 percent of the wind farm's gross revenues into a community benefits fund.
"The benefits they put out are ridiculous," said John Ornellas, board member of the organization Lanaians for Sensible Growth "It's a slap in the face."
Lanaians for Sensible Growth is one of two community organizations that stand against wind development on their island. But Castle & Cooke, a California-based investment company, owns over 95 percent of Lanai, and some its 3,100 residents are fearful to speak out.
"It's a challenge…people are afraid they'll lose their job or home," said Robin Kaye, a member of Friends of Lanai, an organization formed to oppose the wind project.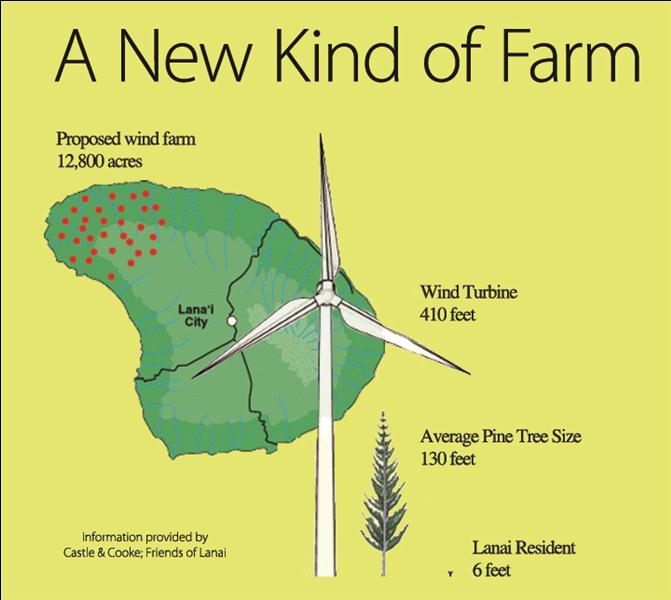 are going to be big hunkin' space fillers – we don't want to see all 400 MW on one island," said Rosegg.
Two years ago, the Department of Business, Economic Development and Tourism (DBEDT) estimated that the interisland cable would cost $1 billion. Castle & Cooke and First Wind have estimated their wind farms would cost between $750 million and $1 billion to build, each, according to the Friends of Lanai website.
"No benefits make this project worthwhile," Kaye said. The wind energy harnessed by the 400 MW farms would cover about 15 percent of Oahu's needs, according to a release by Castle & Cooke.