Whale Tales
A new, life-sized replica of a humpback whale tail at Molokai Fish and Dive is making a splash with local elementary school students. Last Tuesday, the ocean tour and gas business hosted a much younger crowd than usual at their shop. Preschoolers from Kaunakakai Elementary School stopped by to admire the work of art and learn more about the majestic creatures that live just off shore.
Making its appearance about a month ago, the tail has quickly become a landmark — and with good reason. A whale's tail is composed of two lobes, each of which is called a fluke. Constructed by a local artist to accurately represent the size, texture and color of the real thing, the tail in front of Fish and Dive measures 14 feet across its flukes, with whale tails in the wild spanning up to 16 feet.
The Artist Behind the Tail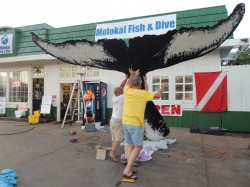 The humpback tail is the brainchild and creation of Molokai artist Catherine Buchanan. Buchanan is an avid protector of whales and friend to the Sea Shepherd crew, the whale activists featured on the popular TV series Whale Wars.
Being unable to accompany the Sea Shepherd crew on a recent mission to Antarctica, Buchanan decided to make a statement in her own way.
Her passion for nature and animals led her to create a series of life-sized animal paintings at the Ho`olehua Airport. The whale tail is an extension of those works.
"Making the animals life-sized allows us to compare them to ourselves and to see how they fit in the landscape they live in," explained Buchanan.
A Labor of Love
The creation of a life-sized whale tail is no easy undertaking. In contrast to the two-dimensional paintings at the airport, the whale tail was created to be a hands-on three-dimensional object.
The tail took about two months to build and became a collaborative art piece, with friends and loved ones donating materials and helping with the painting and texture process. Buchanan extended special thanks to Paddy Evans for donated the materials and shop space.
The structure is made completely out of plywood. The shape of the tail was cut out, an internal frame was created, then narrow strips of thin plywood were glued and nailed in place to create the outer shell.
After the construction, the tail was painted. In order to make the color and texture as realistic as possible, Buchanan referred to photographs that she took on Fish and Dive's whale watching tours.
According to Buchanan, whales can have up to 1,000 pounds of barnacles attached to them, but for artistic purposes Buchanan added just enough to make it look realistic.
What a Whale Can Do For You
Tim Forsberg, owner of Molokai Fish and Dive, is excited about the new installation.
"It was created especially for whale awareness," he explained. "These whales travel 2500 miles and park right outside of our door. It's fascinating."
Forsberg knew the community would notice the tail, but when Kaunakakai Elementary School approached him to do a field trip for students, he realized its full potential.
"Ultimately it has two purposes," explained Forsberg. "Advertising, of course, and as a teaching tool. It is something tourists and locals of any age can learn from."
On the day of the preschool field trip, Forsberg and Dive Master Gabe Kelekolio shared information about the whales long journey from Alaska to Hawaii, their winter stay near Molokai, and their eating and behavior patterns.
Students were able to touch the whale skin and barnacles, while also walking behind the replica to view a painting of a whale spine representing the animal's internal structure.
After the lesson, they drew their own humpback whales in chalk next to the life-sized tail.
Preschool teacher Ella Nakagawa was enthusiastic about the experience.
"The kids were really excited to get out of the classroom and see a life-sized whale," she said. "Without the visual they would have no concept of the size."
Forsberg encourages classes and groups of any age to schedule trips to visit the whale tail as well.
"We are more than happy to donate our time to teach about whales," he said.