Whale Officials Look to Residents for Advice
Environmental officials are seeking mana`o from around the state for their management review process. They met with Molokai residents last week to get their input on the future of the state's five humpback whale sanctuaries.
"We're looking to expand our mission," said Allen Tom, regional director for National Marine Sanctuaries (NMS), of the review process. Possible changes, he added, include extending the sanctuaries' borders, adding resource restoration projects and regulating water or noise pollution.
Hawaii's sanctuaries were created in 1997 in a partnership between the state and federal officials at the National Oceanic and Atmospheric Administration (NOAA). Every five years, the sanctuaries' management is up for review and the public is asked to weigh in.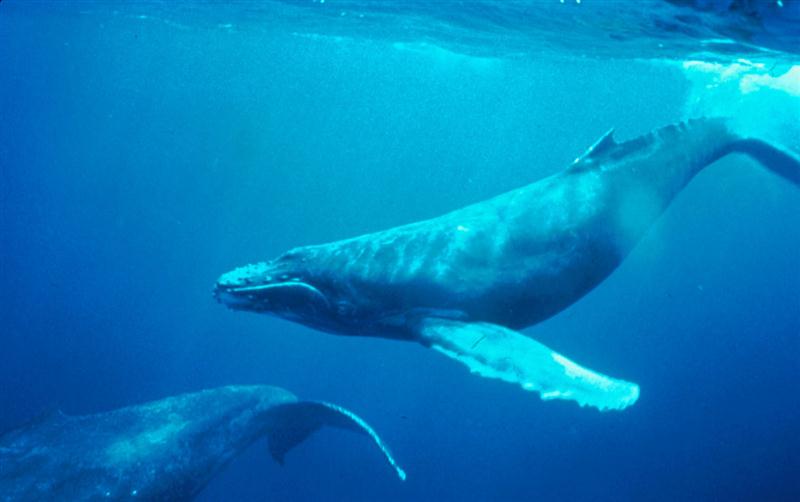 with the community here."
The Maui County Council has also weighed in on the review. Last month, it passed a resolution urging officials to impose boating speed limits, regulate sewage discharge and study the impacts of Navy sonar exercises in the sanctuaries' waters.
Whale Rules
The humpback whale sanctuary off Molokai includes Penguin Bank in the Kaiwi Channel to the southwest, extending along the south shore to the Pailolo Channel and the western shore of Maui. The state's other sanctuaries are on the north shore of Kauai, the north and southeast shores of Oahu and the northwest shore of Hawaii Island.
While restrictions on how close people can get to the whales – 100 feet in the water and 1,000 feet flying overhead – exist outside the sanctuaries, inside there are steeper fines and heavier enforcement of violations.
The public has until Oct. 16 to comment on management plan changes. NMS will then review comments submitted and hold another round of public meetings to discuss possible changes. A draft management plan will then go to the U.S. Congress and the governor for approval.
To register your mana`o with National Marine Sanctuaries, go to hawaiihumpbackwhale.noaa.gov.