Week of Defeat and Victory for Alex Mawae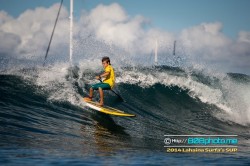 Community Contributed
By Clare S Mawae
It was quite the week for Molokai's 12-year-old Alex Mawae. It all started and finished at Lahaina harbor, with disappointment after his final heat at the Lahaina Surfa's Stand Up Paddle (SUP) contest, and finishing the week with eyes sparkling joy from the NSSA SUP surf event. After competing in the Lahaina's Surfa's SUP contest on Aug. 30, Alex went on to win the National Scholastic Surfing Association (NSSA)'s SUP division on Sept. 5.
At the Surfa's SUP, Alex won his heat in the first round, showing that he was in contention for the top three places. Unfortunately for Alex, he choked in the finals but still finished fourth overall. Despite the disappointment, Alex learned another lesson about competitions by understanding that a true champion must accept losing gracefully and this is all part of the growth of a real champion.
The following Saturday, he headed back to Lahaina with more determination in his heart for the NSSA Hawaii event in the SUP division. Alex had set his heart on this event and determined to redeem himself from the prior weekend.  Alex surfed a great heat with some strong Maui contenders. SUP has only recently been introduced to the NSSA which is awesome for all the young SUP paddlers. Surfing well is not the only criteria for these events as part of the qualifications to compete at the regional and National Championships; they also need to be excelling in school.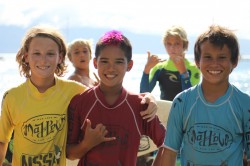 The young groms showed their competitive skills and the art of competition surfing in small two to three-foot swell. The last heat of the day was for Alex, as he made some great turns on the waves and milked every part of the wave to take first overall. Alex was ecstatic with his win and yet humble enough to accept his first place with an awesome smile.
Alex has found another passion in the SUP competitive scene which now gives him three SUP disciplines to focus on: long distance racing, sprints and SUP surfing. This now means that Alex has more competitions and traveling in and out of state for the 2014/15 season. This all sounds fun and exciting but for Alex it means that he really has to focus on school and obtain high grades. His grades are important so that not only will it free up his time to travel and train but also stand a better chance in obtaining sponsors as costs keep rising. Next on the agenda may be on Oahu's north shore or he will stay home and get ready for the 2015 season in all disciplines.