Waving Goodbye to Domestic Violence
Hale Ho'omalu News Release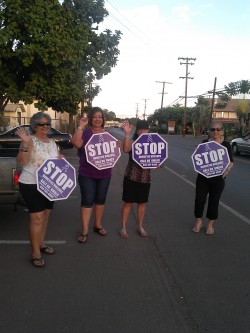 This year's Domestic Violence Awareness Month of October ended as it began with sign-waving on the highway.  Lynda Dudoit, Kalola Kaulili, Rose Pettigrew and Kammy Purdy, pictured here, urged passersby to join in the cause of ending domestic violence.
October's events included the annual Candlelight Vigil at Kaunakakai Baptist Church, held in memory of those who lost their lives to domestic violence.  Molokai's own beloved Malia Kahalewai was honored in this year's vigil.  Unfortunately, domestic violence remains a threat for many families.
Here is a list of questions that can predict whether you or someone you love could become a victim of domestic violence.  If the answer to even one of these questions is "yes," you could be in danger:
* Are you ever afraid of your partner?
* Has your partner ever actually injured or threatened to hurt or kill you, or someone you care about?
* Does your partner ever force you to engage in sexual activities that make you uncomfortable?
* Do you constantly worry about your partner's moods and change your behavior to deal with them?
* Does your partner try to control where you go, what you do and who you see?
* Does your partner constantly accuse you of having affairs?
* Have you stopped seeing family or friends to avoid your partner's jealousy or anger?
* Does your partner control your ¬finances?
* Does your partner threaten to commit suicide if you leave?
* Does your partner blame alcohol, drugs or an abusive childhood when he loses his temper?
* Is your partner cruel to animals?
No one has to face domestic violence alone!  If you or a loved one are in danger, call the Molokai Domestic Violence Hotline day or night for emergency help and advice at 567-6888.