A Walk in the Park
Pala`au Park to open a new trail.
Pala`au State Park hasn't weathered too many changes in its 80 year history, and Molokai wants to see it stay that way. The latest project is going to make it a bit more accessible, but will also work on restoring native plant species to the area.
Ke `Aupuni Lokahi (KAL), a nonprofit organization, has teamed up with the park's owners, the Department of Hawaiian Home Lands, the park's administrators, the Department of Land and Natural Resources, and its neighbor, Kalaupapa National Historical Park, to provide "a place-based learning experience."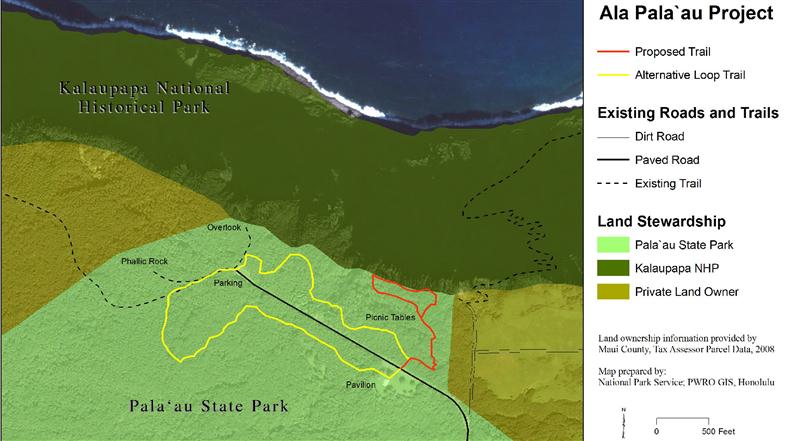 The park currently includes a pavilion, campground, parking lots, restrooms and a few walking trails. The newest project will cut a trail to the south of its current trail and the Kalaupapa lookout.
Construction is scheduled to start next year, when a half-mile natural pathway will be cut, guardrails at the scenic overlooks, and native and culturally-significant non-native plants lining the pathway.
The path would be accessible across from the pavilion and picnic area, makai side, but not immediately visible, as to blend in with the natural environment.
Stephanie Dunbar-Co, the project's coordinator for KAL, said the process needs a "community component." The public is encouraged to submit written comments about the park's proposed addition until March 25, when Dunbar-Co will review and include them in the Environmental Assessment draft. The draft then goes to the Office of Environmental Quality Control, who approve of the project or not.
"Tell us what you want," she said.
The current draft is available online at http://alapalaau.com/ (allow 15 minutes for the very large document to load), or at the Molokai Public Library.

"This year we're building up a community stewardship hui, so when the project is implemented, we're making sure the trail is clear and there's maintenance for native plants," Dunbar-Co said.