Volunteer Efforts Deliver COVID-19 Testing Booth to Molokai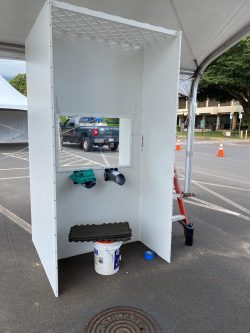 By Catherine Cluett Pactol
If and when COVID-19 makes its way to Molokai, medical staff on island now have an extra tool in their toolbox — a drive-thru testing booth that allows quick swab testing with minimal exposure for providers and patients alike and eases the burden on healthcare facilitates. The booth was airlifted to Molokai last Saturday through volunteer efforts, and though it won't go into immediate use, it will be available if needed.
Molokai dentist Boki Chung is a member of the Hawaii COVID-19 Healthcare Providers Taskforce, a grassroots effort to unite healthcare workers across the state in fighting COVID-19 and provide them with needed resources. The newly-developed booths are one of those resources.
"The residents of Maui have created COVID-19 testing booths courtesy of Dustin Heiner, owner of Bellissimo Stoneworks and Design Inc., using a template modeled after South Korea testing booths and designed by Dr. Kai Matthes, a pediatric anesthesiologist at Interisland Medical Group," said Chung. "The purpose of this booth is to divert people away from the hospital and reduce the amount of PPE (personal protective equipment) being used."
The first 10 booths are being set up on Maui to launch drive-thru testing stations to expedite COVID-19 swabs. A plexiglass window gives protected interaction between the healthcare worker and patient, while two holes with gloves allow manual manipulation of testing materials. Each booth costs $8,000 to $10,000 to make, but Heiner is building them free of charge.
"I was contacted… early Friday morning that Maui had a COVID drive-thru testing booth for Molokai, if we wanted it," said Chung. "Of course I said yes."
Chung just had to figure out how to get it to the island. She contacted Molokai boat captain Clay Ching and he immediately agreed to bring it by boat from Maui on Monday. In the meantime, fellow Taskforce members on Maui had connections with Windward Aviation, a contract utility helicopter company which agreed to fly the disassembled booth over on Saturday at no cost.
"It is because of the generosity of these people on Maui and the ground help we got on Molokai, that we have this testing booth on island in a 30-hour turnaround time," said Chung.
Chung said it all happened so quickly that the logistics of the booth's use on Molokai has not yet been determined.
"It's here and it's ready to be set up, which could probably happen within 30 minutes if necessary," she said. "It's like a telephone booth. There's a better barrier between patient and healthcare provider than through a car window."
Lanai and Hana will also be receiving booths this week.
"I happened to be in a group of people that's willing to help Molokai, I just facilitated," said Chung. "The kindness and generosity of people is awesome to see during these crazy times."
Chung urged fellow Molokai residents to stay home to prevent the spread of COVID-19 on Molokai, but also be ready for it to make its way here.
"We have to brace for it and prepare for it, it's really serious," she said. "Please take a good look around our community and the state of Hawaii. We are all trying to come together to 'flatten the curve' and prevent COVID-19 from spreading. Please don't be selfish: stay at home when you can, don't use PPE when there isn't a valid reason to do so, donate PPE to a healthcare worker, and let's help each other get through this."