Volleyball Struggles, Looks Ahead
The Molokai High School (MHS) girls' volleyball team hit a tough stretch last week, losing back-to-back games to visiting Hana a week after suffering their first Maui Interscholastic League (MIL) loss in years.
Hana swept Saturday's matchup at the MHS Barn (25-21, 25-19, 25-15) after taking a 3-1 win Friday night (26-24, 22-25, 25-11, 25-16).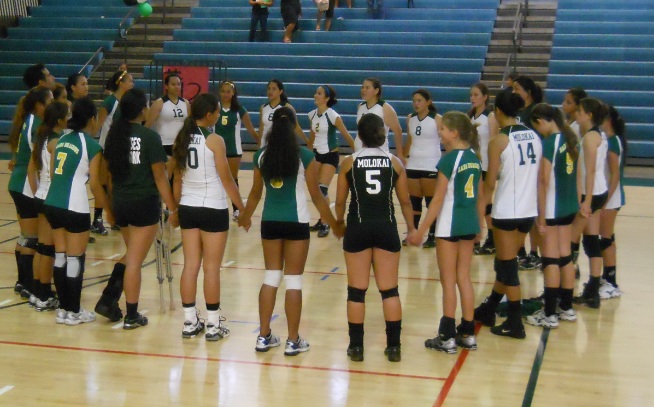 On Sept. 30, host Seabury snapped the Farmers' MIL unbeaten streak dating back to 2007 with a nail-biting five-set match (23-25, 25-17, 19-25, 25-17, 15-10).
However, the Farmers earned a win Oct. 1, sweeping host Maui Prep (25-13, 25-11, 25-20). Their MIL record stands at 5-3 as they look forward to a trip to Maui this weekend, when they revisit Seabury (Oct. 14, 6 p.m.) and Maui Prep (Oct. 15, 6 p.m.).
Head coach Matt Helm said his players' effort showed at times during their struggles last weekend, but lapses in communication left the Farmers open to Hana's attack.
"Our inexperience really showed today," he said Saturday, referring to his team's youth – including nine new players this season and only three seniors.
One of those seniors, outside hitter Natalia Levi, suffered a broken foot in the first set Friday night, rendering her unable to play for the remainder of the season.
Despite the losses, several players tallied impressive stats against Hana. Leenell Hernandez (13 kills, 10 digs, 1 block), Shaniah Mollena-Lopez (9 assists) and Carol Kahee (9 digs) excelled on Saturday, while Hernandez (14 kills) and Lehiwa Pedro (6 kills) stood out Friday.
Helm said he and his squad will work on a different lineup this week and improving court communication as they continue to defend their state championship title.