Volleyball Maintains Undefeated Season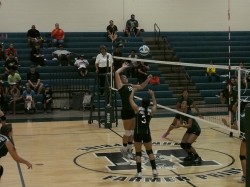 The Lady Farmers Volleyball team didn't lose a set in a pair of home games against the Lanai Pine Lasses last weekend. With a 4-0 season record, the Molokai team is currently ranked first place in the Maui Interscholastic League (MIL) Division II volleyball standings, according to The Maui News. Pictured here, senior Rebecka Adolpho spikes the ball, assisted by sophomore Precious Rawlins, during last Friday night's three-set victory, 25-20, 25-18, 25-16.
Saturday, the Lady Farmers again came out on top, 25-17, 25-21 25-21. The team will face Seabury at the Barn this Friday at 7 p.m. and noon on Saturday.