Visiting Artist Ceramic Workshop
MAC News Release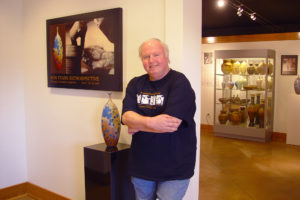 Molokai Art Center (MAC) is pleased to announce a two-week workshop featuring first-time visiting artist Professor Emeritus Ron Evans, ceramic artist for over 45 years. Ron's own artwork consists primarily of crystalline glazed wheel-thrown forms and one-of-a kind art pieces. Ron has recently retired as a Professor of Art at the College of the Desert in Palm Desert, California, where he taught for nearly 40 years. It was the only college in the U.S. to teach crystalline glazes. Combining science and mesmerizing beauty, crystalline glazes shimmer and shift much like holograms do and are
literally three-dimensional.
Workshops will include clay, studio time, glazes, firing and hands on instruction in crystalline glazes and raku. Ron will teach for two weeks beginning July 16 on Monday, Wednesday, and Friday from 1 to 5 p.m. The first week's classes will introduce crystalline glazes on white ware pottery. In the second week beginning July 23, Ron will help students explore Raku, an exciting low firing technology used in creating pottery for the Japanese tea ceremony.
Please contact MAC member Emillia Noordhoek at 553-3380 for more information and to register. Cost is membership plus a materials fee of $30 for the course. Regular membership at MAC is $60 per month.