VEX Robotics Competed on Maui
Community Contributed
By Edwin Mendija, VEX coach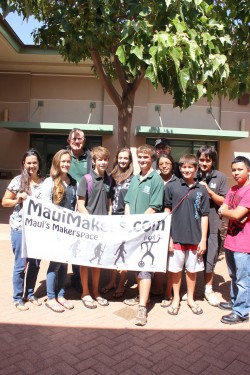 At the beginning of last month, the Molokai High School VEX Robotics team competed in the Valley Isle VEX Tournament held in Iao Middle School on Maui. The tournament consisted of 23 teams from Kauai, Oahu, and Maui. Molokai teams 1037A and 1037B ("The Farmers") placed 5th and 10th place respectively, ending up in the quarter finals.
VEX Robotics is a program designed to introduce the world of robots to children, teenagers and even adults. VEX provides a learning environment for people interested in the fields of science, technology, engineering, and math (known as STEM). The program is also a competition, and every year, a new game is introduced with the goal of scoring as many points as possible with a robot designed by the students.
Last month's trip was a massive improvement for the program, as the students not only did much better in competition than in previous trips, but show cased exponentially improved teamwork, leadership, and technical skills. The team hopes to compete one more time before the season ends for one last chance at making nationals.
Students on this trip included President Caulin Nelson Angelsea, Vice President Sarah Jenkins, Sargeant-at-arms Lily Jenkins, Luke Kikukawa, Keoki Pelland, and Erik Svetin.
Special thanks to Heidi Jenkins, Weldon Wichman, and Kimberly Svetin for making this trip happen!
If you have any questions about this program and what it's about, please feel free to contact me, Edwin Mendija, at cmendija@hotmail.com.