Veterans Get Building Permit
Molokai Veterans Caring for Veterans (MVCV) were handed a piece of paper last week that turned years of frustration into a sigh of relief. The five year wait to obtain a building permit to construct a veterans' center on Molokai is over.
"This is a big load off of us mentally and physically," said veteran Jesse Dudoit. "We've been waiting so long."
Completion of the permit was made possible in part by a County Council decision in early April, which shifted authority for adequate fire protection from the Department of Water Supply to the Fire Department for non-residential buildings. Previously, both departments were required sign off on all building permits, but they used different standards to measure water flow for fire protection. The veterans' center met the Fire Department standards, but not the Water Supply standards. This caused delays in the permitting process.
"The county has not been trying to make life difficult or discriminate against certain people," said Jane Lovell, deputy corporation counsel for the county, adding that the permit could not be issued until the law was changed.
Lovell said the process to change that law began during the previous county administration, and completed under the current administration.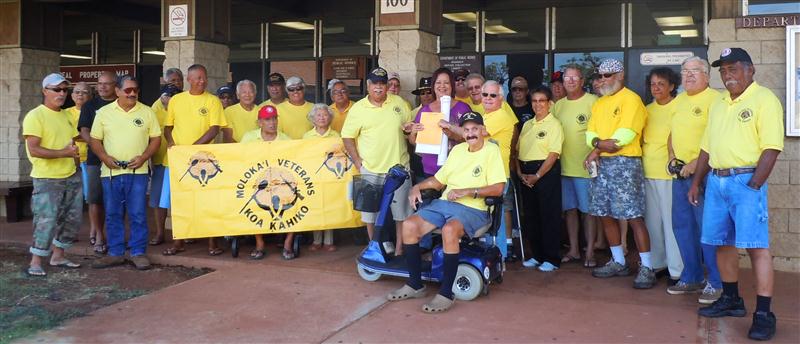 built while I can still enjoy it," he added, alluding to the many vets that have already passed away during the lengthy process.
Moving Forward
Even with their permit finally in hand, Molokai veterans said they are concerned that now they may not have funds to complete the project. Larry Helm, MVCV commander, said that with rising costs of materials and labor, along with money spent on a lawsuit filed against the county, funds are tight.
The original local contractor for the project moved to the mainland, and veterans thought they would have to find a new contractor, increasing costs even more. But Helm said the contractor agreed to continue working with them, which will save time and money. Veterans are also donating their service to help keep costs down, though Helm did not want to give specific numbers.
"We wanna get this thing done," said Helm, adding they plan to move forward with construction soon.
MVCV still has a $250,000 Department of Defense grant for construction that they received early in the process. Molokai veteran Manny Garcia said he expects the center to be completed as soon as the end of the summer.
During his campaign, Mayor Alan Arakawa promised veterans he would get them their building permit. Arakawa told the Maui News last week that the county will pay to connect the veterans' center to a proposed new county waterline. He also said money has been reserved to pay for a portion of the veterans' legal fees, according to the Maui News.
Staff of Arakawa would not allow him to speak with the Dispatch last week.
Lawsuit Proceeds
The lawsuit filed by MVCV against the County of Maui in September 2010 is still moving forward. Two weeks ago, Hawaii District federal Judge Leslie Kobayashi ruled that two of the group's nine original complaints will continue.
The First Amendment case against former Mayor Charmaine Tavares, in which Tavares allegedly threatened Helm by calling him at home and telling him that if the group protested in front of county buildings on Maui, they would never receive the building permit, will move forward The other complaint going to trial on Oct. 25 is an emotional distress claim on behalf of individual Molokai veterans against the Tavares and the county, according to Suki Halevi, the attorney representing MVCV.
Some of the other claims were dismissed without prejudice, meaning that the group has the opportunity to file amended claims by May 20, which Halevi said they plan to do. A judge will decide whether or not the amended claims have legal merit before the trial.
However, settlement out of court has not been ruled out. Halevi said it's "an on-going question whether the suit will settle or go to trial."
"We are still trying to discuss a mutually beneficial resolution," said Lovell.