Veterans Corner
Community Contributed
By Jesse Church
Aloha my fellow veterans and residents of Molokai, old Jesse here with the veterans news. All of you football fans know that the NFL just played the Pro Bowl in Honolulu on Sunday, Jan. 26. A good friend Scotty Schaefer and his wife Lynette decided to go to the game, along with their son Masi, who lives on Oahu, and myself.
We began to plan the details, and I called the NFL offices in New York City and spoke with Terry Wooten in the special events department. He was great, and set us up with four tickets in the handicapped section. They were great seats in the south end zone, where we were so close, you could almost feel like you could touch the players, so I'd like to send Terry a big mahalo for his help. The game was great, even with all the rain during the entire game, and what a tremendous finish. With 41 seconds left, Team Rice threw a touchdown pass in the south end zone right in front of us. Then Team Rice went for the two point conversion and not kick for a tie. They were going to win it or lose it right there and they made it on a running play. What a fitting ending to a tremendous game, with a final score of Team Rice 22, Team Sanders 21.
But the game was only part of the memorable trip. When Scotty tried to set up air transportation to Oahu, the airlines wouldn't ship my electric scooter because it can't fold up. Then Scotty was talking to his coworkers at American Medical Response (AMR), where he works as a paramedic. One thing led to another, and Scotty's boss called and offered to fly us to the game and back on Sunday, telling us they would be happy to do something for our veterans like old Jesse.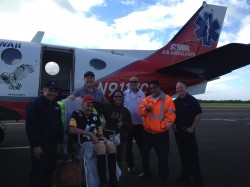 I couldn't believe it when Scotty told me what AMR was going to do. They are one great company and group of people. Rick White, Karlson Pung and Speedy Baily handled all the paperwork and logistics. Our pilots that morning were Jake Berryman and Syd Somera, and the evening pilots were Kap Sanderson and Marty Calistro. Back in the cabin with us was paramedic Tippy Lee and nurse Lahela Blake. The AMR ground crew from Molokai was Elithe Pladera, Tim Musick and Lyle Likua, and in Honolulu, Paris Lee and Curtis Oba. They did a super job getting me in and out of the plane, with the help of dispatcher Tasha Reece. I thank you all from the bottom of my heart and send you all a big mahalo.
Scotty talked to Frank Maniago from Molokai Drugs about renting a wheelchair but they, too, wanted to help a veteran, and Frank loaned us a wheelchair for the day. Mahalo Frank! Thank you very much also to Kolo Place from Island Air, who shipped the wheelchair to Honolulu and back.
I'd also like send a big mahalo to Masi Schaefer for driving us from the airport to the game and back. This was a big team effort — it took a lot of good people doing a great job — and I thank you all sincerely. I want you all to know that old Jesse loves you all greatly, and that it was my pleasure to serve this country and its people.