Ventures in Vanilla
Deep in one of Molokai's lush east valleys, a translucent, arched roof frames green peaks and greener foliage as far as the eye can see.
"These are the girls!" says Patty McCartney with motherly pride, stepping through the door and glancing around fondly. She tilts her head to get a closer look at each, brushing them gently with her hand and telling them they're beautiful and growing well.
The girls are vanilla plants, a type of orchid vine producing beans that hold one of the world's most popular flavors and fragrances.
"I come up here and talk to them, sing to them, fertilize and pollinate them," she says.
Her 50 plants produce about 1000 beans annually. Each bean was hand pollinated by McCartney. Right now, the plants are in a rest period for a couple of months between each growing seasons, but McCartney is expecting buds to begin appearing soon. As she visits each orchid, supported by a pipe trellis, she looks for signs of new life.
After almost 10 years of growing vanilla at her farm, Pualani O Molokai, McCartney launched a new venture last month selling vanilla products — grown, produced and bottled on Molokai.
"I bought her entire first batch of about 18 bottles. It sold out in one month," said Nannette Walters of Mahana Gardens, who markets McCartney's vanilla. "People love it."
Vanilla is reportedly the world's second most expensive spice because it is so labor intensive to produce.
McCartney can attest to that.
Because there is no natural pollinator for vanilla in Hawaii, McCartney hand pollinates the creamy white flowers every morning so they produce beans. Each flower only last one day, so timing is critical. Using her fingernail, McCartney dabs pollen from the flower's anther to fertilize its ovary. Each plant can produce 100 to 150 beans each growing season, which lasts about 10 months.
After the beans form, she watches for the green pods to turn yellow at the tip — then harvests them one by one. She "blanches" the beans, or submerses them in boiling water for about 10 minutes. Then begins the process of "sweating."
"I roll them up in a dark towel in a blanket inside a down jacket for 10 days," she said. Every day, she removes them from their warm wrappings for about four hours and places them in the sun — often on the dashboard of her truck, she said.
For the next two to three weeks, McCartney "massages" each bean in her hands to maintain their flexibility and bring out the oils in the pods. Finally, the beans — which were harvested looking like green beans and now appear flat and dark brown — are stored in a dark box for six months to develop their coveted vanillin flavor.
She calls her annual harvest tiny compared to that of large vanilla farmers.
"It's not for everybody," she said of the labor and patience needed. "But here on Molokai, it shows it can be done… there's so much potential [here] and a unique opportunity for value-added products."
'Foo-foo Plants'
Aside from the time-consuming processing of the beans, the plants themselves are extremely susceptible to disease, and McCartney works constantly to keep them clean.
"I call them foo-foo plants — they take a lot of care and they're very particular," she said.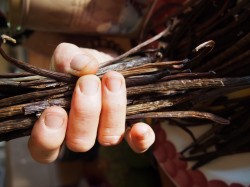 It's been a long journey of trial and error that's led to the bottles of vanilla McCartney now markets. Nine years ago, McCartney was researching lilikoi on the Internet, with plans to make growing the fruit her next agricultural venture. But she said the links kept leading back to vanilla. So she gave in to fate and redirected her efforts toward vanilla.
Her first plants she calls a fiasco. She obtained a grant for Molokai agricultural development projects to fund the endeavor. After rallying friends to help her clear land, build irrigation, install growing support for the vines and plant the vanilla plants, they all succumbed to disease. After more disappointing failed attempts, she contacted the University of Hawaii for help. One of the staff members who came to offer assistance was Janice Uchida with the Plant and Environmental Protection Sciences Department.
"It's part of our job to do research and find answers to help growers so we were happy to help her," said UshidaUchida. "Because she's a positive individual and willing to solve problems that she comes across… she [has been] successful."
Five years ago, UshidaUchida and fellow botanists visited McCartney's farm and not only provided her with the vanilla plants she now grows, but also offered some tips.
One piece of advice UH botanists gave McCartney was to install a greenhouse with a solid cover, which UshidaUchida said is important to control both water and disease. McCartney followed their suggestion, and UshidaUchida said her willingness to change her growing methods has contributed to her overcoming the challenges she faced.
"She was extremely enthusiastic and very good at keeping everything clean," said UshidaUchida, adding that, as McCartney had experienced, disease prevention in growing vanilla is critical.
McCartney now does all her own propagation so she can continue growing her girls. Beginning as a six-inch cutting, it takes about two years to start fruiting "if you do everything just right." Each plant can produce for at least eight years.
Extracting the Value
Have you ever been tempted to taste commercial vanilla straight from the bottle? If so, you've probably puckered your mouth at its bitterness. But not McCartney's. In addition to a delicate but intoxicating vanilla aroma, it has a natural sweetness that complements its rich flavor. That's because it's made with food-grade glycerin rather than a base of alcohol.
"I'm allergic to alcohol," said McCartney. "So two years ago, I got a big vat of glycerin and [dumped in] a bag of beans." She read up on how to make extract, and last summer, took a Hawaii Masters Food Preservers class offered on Molokai by Ken Love to learn more about value-added products.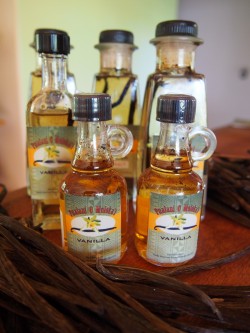 "It was inspiring," she said. With the help of additional grants along the way, she set December as her goal to launch her vanilla products.
After letting the beans sit in a gallon of glycerin for six months, researching and ordering appealing bottles to hold the vanilla essence and designing labels to display her products, she succeeded in selling her first value-added products last month.
"There's value in a vanilla bean," she said. "But [creating a product] increases the value so it becomes economically viable.," she said.
Marketed as a beauty product, McCartney said the glycerin makes a great skin moisturizer or can be added to your favorite body lotion or shampoo. She said some customers have also told her they use it in cooking.
So far, her products have been getting rave reviews.
"People are excited about the fact they can recognize the product but they love that it's grown and bottled on Molokai,." said Walters, who will soon be opening a shop called Molokai Mercantile to offer other local farmers and producers a place to sell their value-added merchandise.
Walters said both locals and visitors to the island have been buying up the vanilla, noting that the presentation and bottles are "beautiful" in addition to containing a quality product.
"The reception has been fabulous," she said. "I'm excited and proud to be able to offer it."
McCartney said she also markets the vanilla on the Internet, and plans to sell it at more local stores in the future.
McCartney moved to Molokai from California in 1983 with her then-husband and baby daughter after hearing about the island from a friend of a friend who had land here. She's been farming her east end property ever since. With her two daughters long graduated from Molokai High and a job as a substance abuse counselor to support her farming habit, she is pushing forward with her goal of making vanilla her retirement fund.
There are a lot of hurdles to jump for those looking to make the jump from farming to marketing value-added items, but McCartney said it's all worth the effort.
"Somebody's got to take the bull by the horns and say 'I believe in this,'" she said. "I deserve that and Molokai deserves that… hopefully it shows younger people or those interested in business that yes, we can."
To contact McCartney, call her at 558-8383.