Unofficial Channel Record Set
Darren Miller, the Pennsylvanian man who was featured in last week's Dispatch for attempting to swim seven of the world's most dangerous channels, set an unofficial record swimming the Kaiwi Channel last weekend, according to his blog. He plan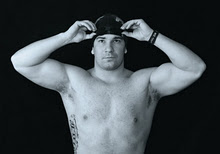 s to submit his time of 12:12:23 with proper signatures and documentation for proof of the record, he said.
"From the start at La`au on Moloka`i, to the finish at Sandy Beach on O`ahu, it was a non-stop barrage of giant swells, strong currents and rough chop," he wrote on his blog, , "but we made it through! Didn't get to see any tiger sharks, however, I did manage a Portuguese man-o-war sting right to the face (felt GREAT, ha)! The middle of the channel was so beautiful, as it was such blue water all around, and just seemed to go on forever."
Miller is attempting the so-called "Ocean's 7" to raise money and awareness for infant heart surgery. To learn more, visit darren-miller.com.