'The Ultimate Sacrifice'
Molokai veterans celebrate their day, share with Kualapu`u students
Navy, Air Force, Marine Corps, Army, Coast Guard and many others. Vietnam, World War II, Korea and Desert Storm. Veterans of different backgrounds, hometowns and fighting grounds came together for this year's Veterans Day services on Molokai.
The Molokai Veterans Caring for Veterans hosted a ceremony at the Ho`olehua Veteran's Cemetery last Thursday morning, attended by family, friends and volunteers from Molokai Middle School.
During a solemn rendition of taps by Rob Stephenson on the saxophone, the veterans released 21 red, white and blue pigeons in lieu of a 21 gun salute.
Bob Aldridge joined the Molokai veterans group nearly 10 years ago for the camaraderie.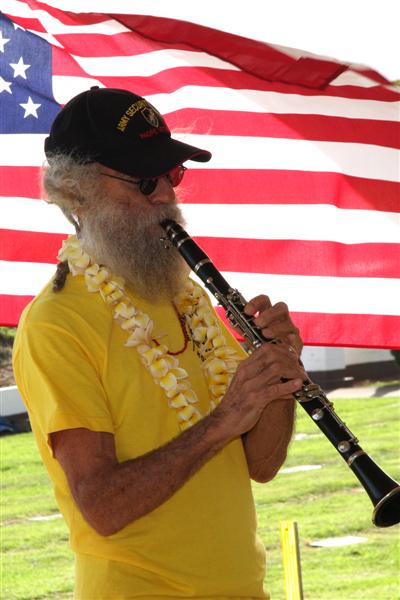 people shouldn't have to go to war to be safe," she said.
"In a world of uncertainty, someone has to make a stand."
Veterans Day: More than Just Nov. 11
Veterans visit Kualapu`u School

By Diane Abraham

On this past Wednesday, Nov. 10, my fourth graders at Kualapu`u School found out first-hand that Nov. 11 was more than just a holiday and a day without school. We were honored to have two veterans who had served in Vietnam come and share their mana`o and answer questions. Many thanks to Larry Helm and Bo Mahoe for their time and insight as 20 fourth grade boys and girls got to find out the sacrifices and experiences that our veterans go through for our freedoms, as well as the things our military men and women do to benefit others during times of natural disasters such as earthquakes and tsunamis.

Veterans give up time from family and friends in ways that most of us cannot fathom. For these American heroes, it's not about being honored on one day each year. Generally, it's a 24/7 duty that involves humane decisions. If Nov. 11 came and went without you thanking a veteran, please do so now: it's more than just a one day thing.