Ukulele Collector Strums Up Business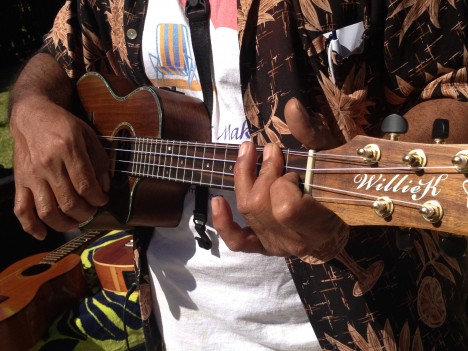 Todd Ragsdale, a boat builder, musician and fervent collector, wanted to try something different after retirement.
Six months ago, he fused his passion for music and fondness for collecting ukuleles into a business to share both his hobbies with Molokai. Thus was born Molokai Music Maker, where he sells handmade and vintage ukuleles from Hawaii, the mainland, Indonesia and beyond.
"It's like a peanut butter and jelly sandwich," said Ragsdale, a Honolulu native, while plucking one of his many ukuleles, improvising a melody at Hotel Molokai's weekly Friday market. "You can't have the peanut butter without the jelly. You come to Hawaii, you should have a ukulele."
Ragsdale began collecting a decade ago, and has continued his quest while starting his business. He began selling ukuleles at Hotel Molokai's Christmas Sale last year and decided to turn his hobby into a lucrative avenue after a positive response from the community.
You can find him behind a table scattered beautifully with polished, rich ukuleles every Friday at Hotel Molokai Kupuna Friday Nights from 3:30 to 6:30 p.m. He also sets up shop at the weekly Saturday Kaunakakai Market from 9 a.m. to noon. Many local ukulele talents join Ragsdale at his booth on Saturday mornings for an impromptu jam session full of seasoned aunties and uncles and novice keiki.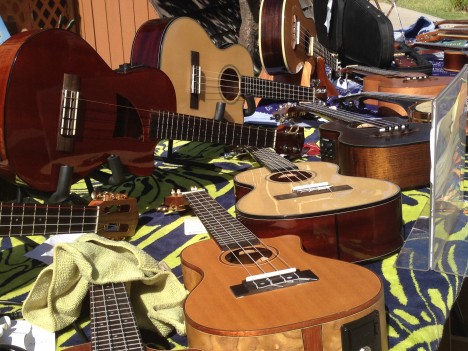 "I like the novice, beginner to intermediate, those are my favorite people because they're the ones that have that twinkle in their eye and always want to learn," Ragsdale said. "They learn at such a fast rate and then after that it's the endurance of practice."
For Ragsdale, the ukulele can be learned at any age. As a musician himself, who plays the keyboard, trumpet and harmonica, Ragsdale said he wants to diminish the stigma that you have to be musically gifted to play an instrument and encourages customers to "learn something new, especially when it can be lots of fun."
"I feel that the ukulele is the perfect instrument," he said. "From its petite size and Hawaiian musical history as a primary accompaniment to the songs and dances of our islands, to its versatility in today's worldwide musical applications, with virtuosos like Jake Shimabukuro and Aldrine Guerrero."
The Business of Music
Ragsdale said he averages about two dozen ukulele sales per month between Molokai and on Ebay.
"I'm always offering a fresh look with something new in stock every week," Ragsdale said. "I change at least 25 percent of my ukuleles weekly, so everybody has a reason to stop by and take a look."
Ragsdale has a collection of about 50 traditional, advanced design acoustic or electric and special vintage collector ukuleles, some dating more than 70 years, on display at the Molokai Music Maker table. His inventory includes ukuleles in an extraordinary array of shapes, colors and sizes, including a dowdy one, with a brass casing and a red rose delineated on the front panel, which looks like banjo. The ukuleles are fashioned out of combinations of mahogany, Hawaiian Koa wood, spruce and other hardwoods. The spruce and mahogany combination ukuleles deliver a bright and cheery sound when strummed, whereas solid mahogany reverberates with warm and melodic sounds, he said.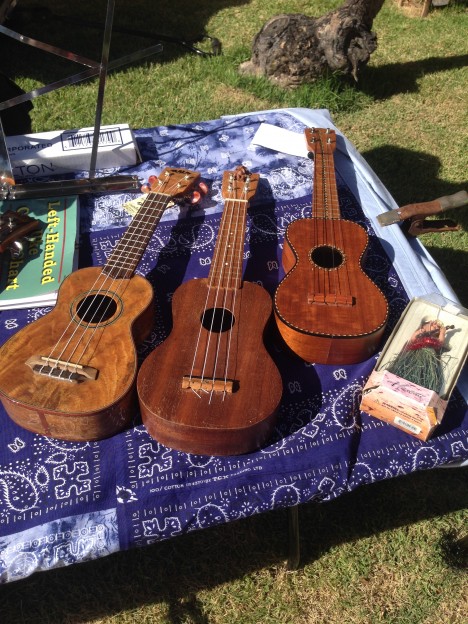 Ragsdale has secured several sources for his ukulele supply, from major suppliers that stock over 4,000 ukuleles, to builders and state sales. He carries close to a dozen Kamaka ukuleles, his favorite brand, in stock, starting from 1930 with a ukulele made in each succeeding decade through 1980. Ragsdale's oldest playable ukulele is a 1920s Jonah Kumalae, still in mint condition.
Ragsdale said he primarily markets on Molokai and won't travel off island to sell — only to buy handmade instruments.
"The difference between hand and factory-made ukuleles is that with handmade you have to some guy working on the instrument from start to finish," Ragsdale said. "That craftsman develops a personal connection to the instrument. Ultimately, you get better quality control."
Molokai Music Maker has a well-rounded supply of ukuleles, from the standard sized soprano and intermediate sized concert, to the full sized tenor. He also carries complimentary accessories such as strings, cases, tuners and amplifiers.
His ukuleles start at $40 for the most basic and simplest model, and peak to several hundred dollars for a performance level instrument. He offers rentals, a consignment program and a copy of Israel Kamakawiwo`ole's "Somewhere Over the Rainbow" to new customers. In addition to selling ukuleles, Ragsdale sells violins for $50 to $100.
Music in the Making
Despite making a hobby of collecting ukuleles long ago, Ragsdale said he only started learning to play the instrument a last year and has just begun experimenting with constructing himself.
His cigar box ukulele, a creative variant that isn't for sale, is Ragsdale's only creation so far. However, he said he will start making traditional ukuleles next summer when the wood is prepared.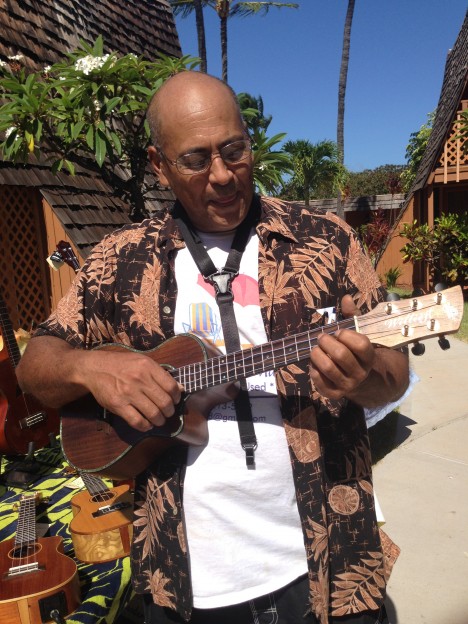 It can take six months to several years for the wood to cure, or preserve.  Once the wood is cured it can take an additional two to three months to build the instrument. Add on another several weeks to apply coats of the polish, roughly two coats per day for 10 days to achieve a basic shine, said Ragsdale. After drying, strings can be applied to the ukulele. He carries three different kinds of string ranging from premium nylon, floral carbon and synthetic gut.
The one thing Ragsdale wants his customers to walk away with after visiting his sales booth is self confidence in making music and starting a new instrument.
"It's something new and fun, it's like Christmas every day when you start the ukulele or a new instrument," Ragsdale said. "The ukulele is such a simple instrument. It can bring such amazing joy and is fun to play at any level from pre-beginner to very advanced."