Tough Start for Farmers
Molokai drops first two games to King Kekaulike.
Junior captain Chelsea Sakamoto winds up for a kick during Molokai's 6-0 loss to Na Ali`i of King Kekaulike last Saturday. The two teams played a doubleheader last weekend in Kaunakakai to kick off the Maui Interscholastic League (MIL) regular season.
The Farmers got off to a great start when Sharali Dudoit-Enis scored less than a minute into Friday af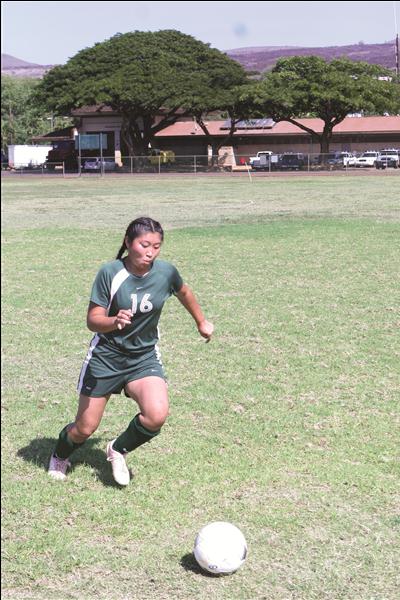 ternoon's game. However, Na Ali`i settled in and didn't give up another goal all weekend. They rallied for an 8-1 win Friday and followed that with a 6-0 shutout the next morning. King Kekaulike striker Maya Palaroan led the way with four goals in the two games.
Molokai will try to get back on track this weekend with a pair of games against Kamehameha at the Kaunakakai Ball Park. Friday's game starts at 3:30 and Saturday's will kick off at 11 a.m.