Tough Day Eased by Music
Ho`olehua Veterans Cemetery was filled with the power of music on Memorial Day last Monday as singers and veterans united to honor the fallen.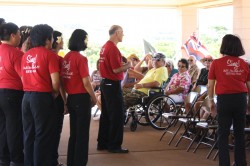 "If you ask any veteran who has been in war," said Molokai veteran Jesse Church, "they'll tell you Memorial Day is the toughest day of the year emotionally because of the people you knew personally who didn't come back with you."
Church said despite the time off work, Memorial Day is not a day to enjoy; it is a day for remembrance. As Oahu-based vocal ensemble Melemai Kapu`uwaimai performed beside the graves, the mood was somber yet hopeful.
"We came and gave our love and sang for them," said choral director Marilyn Liu Kim. She said veteran Larry Helm, who is currently battling cancer, may have known he would be too ill to attend the concert when he invited the group to perform. Helm's absence was deeply felt that morning as Molokai Veterans Caring for Veterans, the group Helm helped form and led, gathered together.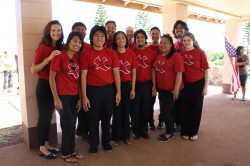 "We wish Larry Helm supernatural healing," said Kim. "We hope to come to Molokai again."
Melemai Kapu`uwaimai, which features singers between ages 20 and 40, performed a series of shows on Molokai, including Kalaupapa, in the days leading up to Memorial Day.