'Tonbo's Amazing Adventure'
News release by Yamashita Ohana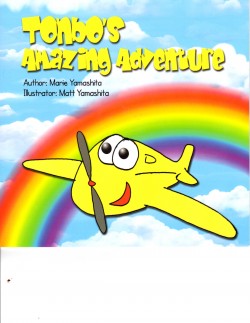 Grateful for, awed and encouraged by Molokai's tremendous response to her first children's picture book, Marie Yamashita has published a second children's book, "Tonbo's Amazing Adventure."
Tonbo, the little airplane at the Honolulu International Airport, sees huge jets thunder and roar off to faraway places in the world and wishes that he, too, could be a big jet like them. He gets his wish and goes off in search of a place no one has seen or heard of.
Amazing adventures follow. He lands in a magical place and is befriended by "wishers" like himself. A time comes when he longs to return home. Alas! That is not possible. Tonbo laments all that he has lost — but also how lucky he is.
It is a magical story for those who believe in miracles as children do. Whimsical, colorful illustrations by Matt Yamashita, the author's grandson, enlivens this fanciful tale. It's an ohana production, as was the last book, "The Woodcarver's Clock," which included grandson Todd's art.
Sage, the author's great grandchild, read the story to her third grade class and said that all the children liked the book. What better endorsement can one expect from the target audience of this book? The author also hopes that others in our community will be encouraged to try their hand at writing.
"Tonbo's Amazing Adventure" is now available at Kalele Book Store, Molokai Drugs and The General Store.