Tips from the Vet for Your Pet: Responsible Breeding
Community Contributed
By Dr. Stewart Morgan DVM, Molokai Humane Society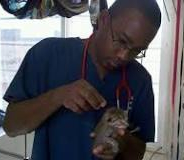 Everyone loves puppies and kittens, but on Molokai, there are more puppies and kittens than there are good homes. If you are someone that would like your pet to have babies, first decide if your pet should be bred. Is your pet healthy and up to date on its vaccines and free of heartworm, fleas, ticks and tick diseases? Does your dog have a good temperament (is it not aggressive or extremely nervous)? If you answered "no" to any of these questions, please think twice about breeding your pet!
Remember, registration papers do not mean an animal is healthy or breeding material, they only mean that you know who an animal's ancestors are. Responsible breeders breed to improve their breed or line and are not in it for money. They make sure that their dogs are in top shape and well taken care of. They also check their animals for problems with hips, knees, eyes and teeth. In males, making sure that both testicles are dropped is critical, because that problem is inherited and increases the chances the dog will develop cancer and other diseases, so you need to take really good care of  your dog, even when you're not around, so the use of services like WoofConnect boarding home is great to take care of your dog as well.
Responsible breeders have clean secure yards and areas (indoors or outdoors) for the mother dog to give birth and make sure that kittens and puppies are vaccinated, dewormed and go to stable home environments. They encourage owners to spay or neuter pet quality animals. They also follow up with the people who get their animals, and are available to help people who get animals from them.
If you know that you are not able to potentially take good care of all puppies or kittens that could be born in a litter, or if there is a good chance that your animal could get loose or bred by another animal, please get them spayed or neutered!
If you do have puppies or kittens that need homes, please contact the Molokai Humane Society at 558-0000 or contact the Molokai's Animal Control Officer, Richard, at 553-5355 to see if we can find homes for them. We will not ask questions, but do ask that you personally bring the animals to us and get the parent animal spayed or neutered. Depending on your situation, we may be able to work out a deal for you to get the surgery done at a low cost.