A Time to Celebrate
Maunaloa finally free from consolidation threats
The scene at the Maunaloa Recreation Center last Wednesday gave little hint of the years-long struggle to secure the future of Maunaloa Elementary School.
Music drifted out the door and down the block, where kids escaped to laugh and play in the last few minutes of sunlight.
The only cues of the community's campaign were the hand-made protest signs that lined the hall's walls – "Keiki Our Future," "Save Maunaloa School."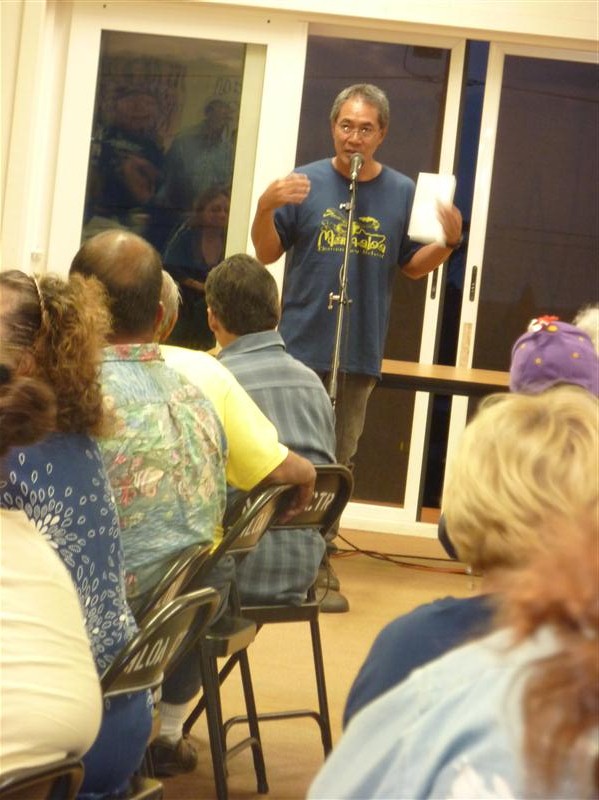 After all the hand-wringing and worrying over the school's fate, still grappling with the disappointment of Molokai Ranch shuttering its operations there, Maunaloa residents were relived to have a reason to celebrate.
The event was meant as a thank-you to the community, said Maunaloa Principal Joe Yamamoto, whose support helped convince the Board of Education (BOE) that consolidating the school with Kaunakakai Elementary roughly 18 miles away was not the answer.
"It's been our message throughout — you take away the school, you take away the heart of the community," Yamamoto said. "It's a hub."
Despite improving tests scores and its meeting federal benchmarks under No Child Left Behind, the state targeted the school for consolidation, looking to save at least $270,000 a year, according to official estimates.
In September, after two years of back-and-forth between the BOE, state officials and Maunaloa residents, the board voted unanimously to keep the school open with its full staff intact, swayed largely by the outpouring of community support for the school.
"It was really overwhelming throughout the whole process," said Elly Abafo, an educational assistant at the school. She was also a student at Maunaloa, as were her mother, children and now grandchildren.
Many at last week's banquet likened the school to a second home for its 71 students, who all know their classmates, teachers and principal.
"It makes learning fun up here cause there's only little bit kids," said student Keola Sotelo-Mellokeanini.
Nearby, Leilani Kaina, whose daughter Johalei Kaina-Kahoalii, 5, is in kindergarten at the school, said she feels more comfortable sending her to a school closer to home.
"Everybody is one big ohana so parents don't have to worry about the kids being safe," Kaina said. Avoiding the drive to Kaunakakai every morning is also a relief, she laughed.
The school's closure would not just have hurt its students and parents. Jonathan Espaniola, who works in the school cafeteria, said the staff was "very nervous" throughout the process.
With a limited business base, finding new jobs in Maunaloa would have been difficult. The town is still hurting over two years after Molokai Ranch shed 120 jobs in a single day, primarily in Maunoloa and on the west end. The school closing would have meant yet another blow to employment there.
But for now, workers like Espaniola are safe – and couldn't be happier.
"I still have a job!" he said excitedly.