The Music of Kalaupapa Rebroadcast
Ka 'Ohana O Kalaupapa News Release
The virtual concert, "The Music of Kalaupapa," which celebrates the often-forgotten musicians of Kalaupapa, will be rebroadcast from Dec. 19 through Jan. 3 on Facebook and YouTube.
The 90-minute concert, produced by Ka 'Ohana O Kalaupapa, debuted in October to high praise and virtual applause from hundreds of viewers.
"This is Ka 'Ohana's holiday gift to those who are interested in the history of Kalaupapa or who simply enjoy music," said Valerie Monson, Executive Director of Ka 'Ohana O Kalaupapa. "We decided to rebroadcast the concert over the holidays when people will be home more than they usually are this year and looking for some joy that we hope this music will provide."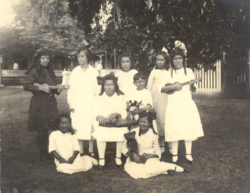 From 1866 to 1969, nearly 8,000 men, women and children were taken from their families and isolated at Kalaupapa because of government policies regarding leprosy, now also called Hansen's disease.
Music became an important part of the healing process of Kalaupapa from the early days when Father Damien formed choirs and bands to modern times when residents organized dance bands or choral groups.
The virtual concert features the songs composed by Kalaupapa musicians: the Boys of Kalawao, the 'Aikala Brothers, George McLane, Ernest Kala, Sammy Kuahine, Helen Keao and Bernard K. Punikai'a. The songs will be performed by Hawai`i musicians Brother Noland, Melveen Leed, Kevin Brother, Stephen Inglis, Makana and Lopaka Ho`opi`i. The concert is narrated by radio and television personality Billy V and produced by musician/producer Chris Lau. Monson wrote the script and selected the photos.
"We had people tell us that our concert was not only entertaining, but inspirational and educational, as well," said Monson. "We feel like it's part-concert, part-documentary where we are able to share the history of music at Kalaupapa along with stories and pictures of the musicians. We couldn't be happier with how it turned out."
The concert is serving as a fundraiser for The Kalaupapa Memorial which will list the names of everyone who was sent to Kalaupapa. The Memorial was the idea of Kalaupapa residents who asked Ka 'Ohana O Kalaupapa to make their dream a reality.
Ka 'Ohana O Kalaupapa was organized in 2003 at the request of Kalaupapa residents. Ka 'Ohana is made up of Kalaupapa residents, family members/descendants, friends and anyone interested in preserving this important history.
"The Music of Kalaupapa" will begin at 1 p.m. Saturday, Dec. 19, and be available anytime through Sunday, Jan. 3, which was the day Father Damien was born in Belgium in 1840. The concert will air on Facebook (facebook.com/kalaupapaohana) and YouTube (youtube.com/user/palolosteve).
For more information, visit kalaupapaohana.org.