The Man Who Loves Christmas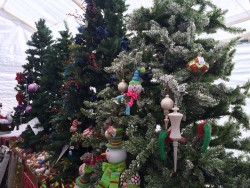 Each year, a tent pops up on Molokai filled with the Christmas spirit. Step inside and you'll find yourself in a wonderland of frosted decorations, festive wreaths, ribbons and lights. Spearheading the family operation, Del Gossert is known locally as the "Christmas man," and for the least six years, has been spreading holiday cheer through discounted decorations under a tent near Hotel Molokai.
Gossert starts growing his full, white beard in October in preparation for Christmas. A self-proclaimed "Christmas fanatic," Gossart admitted that at his former Maui residence, there was barely room for a bed amid the boxes of Christmas decorations he collected.
"It's just in my blood — I've always loved Christmas," he said. "I play Christmas music in June… It's just the happiness [of the season], everyone's cheerful, the decorations, everything."
Born and raised on Molokai, Gossert retired from Ben Franklin Crafts, and has connections to craft companies around Hawaii. His agreements with these companies allow him to buy discounted closeout items, which they pack it up and ship to him, under the condition that he don't sell on islands where they have stores.
Christmas is also a time to be humble, added Gossart, and he was reluctant to talk about his operation. He said he doesn't want to disrupt the sales of local businesses that market Christmas decorations, but opens his tent in the spirit of community service.
Talking story with customers and offering suggestions of decoration pairings for a pleasing table centerpiece or festive tree, Gossert usually ends up giving away at least one item during each transaction.
He said he doesn't keep a dime for himself, and instead, any profits from the operation go to his family members.
"I never made money, that wasn't the purpose," he said. "I give a lot of stuff away to organizations, churches, kids…"
He laughed, joking that at his funeral, people will say, "He gave everything away."
Open only on weekends for about a month leading up to Christmas, Gossert said this coming weekend will be the last this season. He plans to be open Friday and Saturday from 8 to 5, and Sunday from 8 to 3:30, Dec. 18-20, though he said Sunday afternoon they will begin packing up.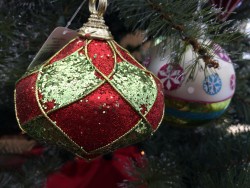 With another Christmas coming, Gossert said he's not sure how long he will continue operating the tent, though he plans to do it next year for sure.
"It's worth it to see the kids — it's all smiles, their reaction when you give them something," he said. "That's what the season's all about."