Thanks for the Memory 2
Community Contributed
By Dara Lukonen, Aka`ula School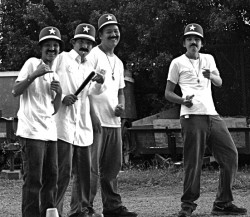 For six decades, Bob Hope brought the USO's famous "touch of home" and a string of smiles to millions of GIs. Bob Hope is remembered from generation to generation for the wonderful memories he and his Hollywood "band of gypsies" gave to U.S. troops through the years.
Aka`ula School continued this tradition last week with its econd USO-tribute show, "Thanks for the Memory 2," performed entirely by Aka`ula students. One singer felt "the performances lacked energy during Tuesday's dress rehearsal, but performers were pumped up and ready to go for Wednesday's dinner theater."
Joining Bob Hope on stage were comedians Abbott and Costello with a new take on "Who's on First?" and two other routines, and the cast of "I Love Lucy" and their famous Chocolate Factory sketch. Rodney Dangerfield brought the house down with his "no respect" one-liners, and the Keystone Cops stole the show as they hopelessly chased their escaped prisoner through the audience and around the stage. In a class by himself was Victor Borge, an accomplished comedian and musician. There was laughter at his jokes and hushed silence during his piano solo.
The show also assembled an eclectic group of singers to perform their most famous songs: Lena Horne, Gloria Gaynor, Chubby Checker, David Ruffin from the Temptations, Stevie Wonder, and Kenny Loggin's Footloose Gals. The final act was the Joyful Noise Choir with their spirited rendition of "Man in the Mirror."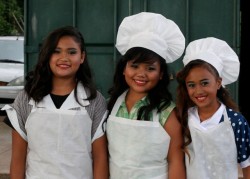 Reminiscent of actual USO shows, the audience shouted endearments to their favorite entertainers, sang along with old
favorites, and danced when the spirit moved them. Sung to Bob Hope's signature tune, the show closed with a musical tribute to the men and women who have served and are serving in the military.
Thanks for the memory
To all our men in blue
Our troops in khaki too
Our tough marines, our coast guard
Our army nurses too
We thank you so much
Thanks for the memory
You made a sacrifice
And paid a heavy price
You fought for all our freedoms
Without even thinking twice
We thank you so much
Thanks for the memory
Simple words will have to do
To share our gratitude with you
You served your country when it called
So much was asked of you
We thank you so much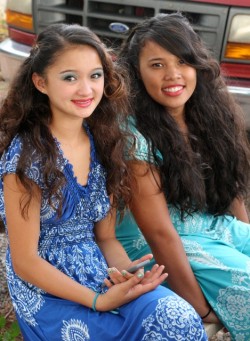 Special mahalo to The Tancayo/Meyer family and school `ohana for the wonderful dinner and food service, and to Carrie DeCoite, Kori-Lee DeRouin, and Stan Kaahanui for their incredible hair and make-up skills.